When it comes to learning a new trick, all of us want to go for an option that is easy to use and performs well. Just like any other skill, flying a drone is also considered one, and today we will be giving you a complete Holy Stone HS100 review to give you an idea if this is the perfect choice for you or not.
One thing is for sure that this drone is great for beginners as the usage is really easy and learning it will not be a hard task for you. Even if you are an expert, this drone can still work perfectly for you and that is the diversity we love in this drone.
The holy stone done hs100 is capable of flying at different levels but if you are just starting with your skill and want something in the budget to try on, we think this serves the purpose in the best way. Although, all of the pilots are going to love how this works and how smooth it flies like the selfie drones.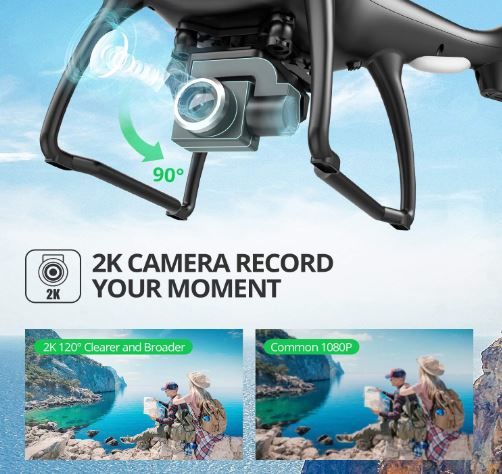 Holy Stone Drone HS100 – Worth Buying?
There is a long list of cheap drones available in the market but no one wants to get their hands on something that will just mess up the first purchase. A person who is starting this intimidating endeavor doesn't want it to be a failure at the first step and that is why there is a lot of pressure not to choose the wrong drone.
Well, you can't say anything about a drone that you haven't even tested yet but we would like to say that the first impression of this drone has always been on point. Most of the users loved it from the start and that is because of a good reason. The reason is not just the affordable price tag of the Holy Stone HS100 review but also the performance and great features that will make the buyer happier about his purchase. The functions of this drone are really easy to use for beginners and there is no rocket science involved. All the features combined make a great deal out of it so you should surely get your hands on the holy stone GPS FPV RC drone hs100.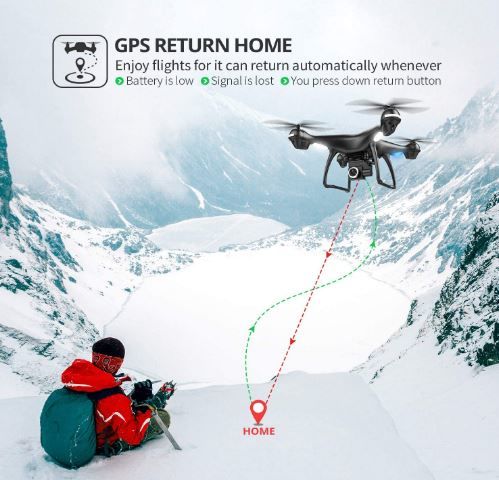 About the Company
The Holy Stone Drone company is actually an Amazon seller and all they have to do is to rebrand different products that manufacturers have produced and sell them with their own label but they get their products made in order so the quality doesn't fall. Other brands like the DJI Tello drone and Parrot Disco drone make their own drones for the users and they are actually the manufacturers too. On the other hand hole stone is just a seller that rebrands products.
There is a specific markup where they hold up the drone and sell it. As they don't have to produce it, they just contact some Chinese contractors who will do the work for a lesser price and tell them to put a logo on the manufactured products. This way they save a lot of money and increase the price 300% more than a company that actually makes these Holy Stone HS100 reviews.
Product Specifications
Here are the quick specs of their product that will help you decide if it is the right product for you or not.
There are barometer and gyroscope sensors extending on a 6 axis.

The GPS system is up to the mark.

It comes with a 720 p resolution.

The transmitter can be adjusted at an angle of 90 degrees.

Hole Stone Drone Hs100 review has a 2500 m Li-Po battery that only needs 3 to 6 hours to be fully charged.

The range of transmitters is 500 meters and power of 2.4 GHz.

There is only one key used to land and take off the drone.

This is a headless drone model.

It also enables the follow Me mode so it moves behind you all the time with the remote and you don't have to control it.

There is altitude hold.

It has a safety feature that allows emergency stop.
What Comes In The Package?
The best part about this drone is that it is available with all the required equipment and you will be happy to use the material that comes in the box. You don't need to buy any extra items from the market and pay extra money for them. Here is the list of accessories available in the box of holy stone done hs100.
The HS100 drone body.

2.4 GHz transmitter.

4 propellers with guards.

USB cable for charging and connecting purposes.

Gear for the landing of the holy stone drone.

A complete user guide to learn how to fly it.

A TF memory card of 8G capacity.

4 screws with rubber pieces to cover them.

4 blade pads.

A screwdriver to fix everything in place.
Flight Time of Holy Stone HS100 Drone
As mentioned in the papers of the Holy Stone Drone, this drone has a flight time of 18 minutes. Although in reality when we used this product and calculated the time of flight we came to know that it has about 16 minutes of flight time. We consider this time is a good deal as it is only a beginner-level drone. As compared to other cheap drone models this one comes with an impressive flight capacity.
The reason behind this time of flight is the heavy battery that powers up the drone and heads around the 7.4 V and 3500 mA Li-Po battery. This battery helps the drone to stay in the air for around three hours if you completely charged the battery to its max. There are some great looking LED lights in the back of the drone that will tell you about the charging left in the drone. This way whenever the battery falls down you will be notified and return the drone to the ground.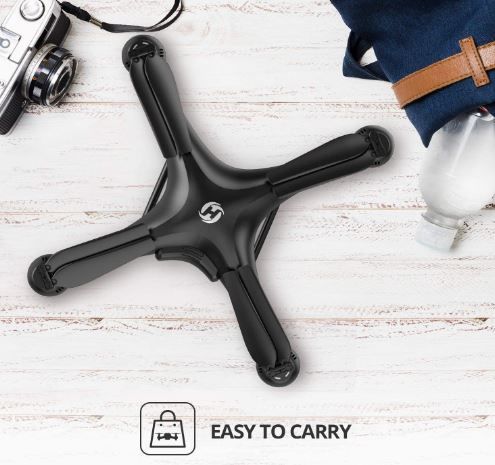 Holy Stone HS100 Control Range
If you have perfect conditions and the weather is good this phone has a good ability to fly to the maximum range of around 600 m in the air. Although if you use other features like the FPV and fly through it you will only get the range of around 350 m.
The reason why we love this drone is the return to home feature that allows the drone to come back home even if you have taken it too far. This way your prized position will not be lost and the footage that the camera has got me will stay with you forever.
For the FPV feature, you will need to install the Holy Stone Drone application on your mobile phone either it is Android or iOS. It has really come back and minimal remote control and the size really fits perfectly in your hand. There are ergonomic handles on the controller so that you will not get tired and the hands will stay comfortable. Also, it comes with a smartphone mount so that you can keep your phone on the stand and see what is going on on your FPV drone.
The Camera of the Holy Stone HS100 Review
The best part of this drone is the upgraded camera that comes with around 1080p resolution. It is a 2K camera so it shoots some high-resolution videos and pictures of the scenery. You will get crystal clear footage that is not available with other cheap mini drones in the market.
The field view of this camera extends to 120 degrees so that you get to see all around and the camera also has an adjustable factor of 90 degrees. In FPV mode, you will only get a resolution of 720 p so keep that in mind when going for this model.
What will be the perfect wind speed for an HS100 flight?
As recommended by the manufacturers of the drone, 22 mph seems like a perfect wind speed but don't go over it for the Holy Stone HS100 review.
What connector charges the controller and drone?
You will require a micro USB cable as the controller and drone come with a USB port for charging. A power adapter will also be required to charge the battery of this unit. Although, you can find these in the package.
What is the performance of the drone in areas with a bad telephone network?
As the drone is connected to your smartphone via WiFi and that's how it floes so you will not have to worry about the network. Only make sure that the WiFi is on spot and the controller stays close.
Should I get the holy stone hs100 drone as a beginner?
The 8 GB card also offers great space to store your videos and pictures that the drone takes. Also, there is a mobile mount to attach your mobile phone with it and fly it in the air. You can fly it up to 150 meters when you are using the FPV mode, while the normal mode allows you to fly it 350 meters high. We totally love what the drone offers and would recommend it to you as well.
Final Verdict
Overall, the Holy atone drone hs100 is a great choice for beginners and allows the novice fliers to love and pursue this passion. This is an easy to use drone and that way you will have no problem learning how to get your dreams high in the sky. The return to home function is also really high end because now the pilots will not have to worry about losing the drone. Even if you lose sight, it will detect the home and return back. What better a drone can offer that will come back home for you even if you lose it?
We think it has an overall great deal as all of the amazing features are available at a really reasonable price. The 1080 p camera gives you a really high video quality and all of it is available at such a good amount. So, in case you want an exciting new activity and want this affordable drone, we have got you covered with the Holy Stone HS100 review.