The DJI Tello is a type of drone for both kids and adults. This drone is very easy to operate as well as you can easily coordinate it. It is a pretty basic type of drone and you can easily control it too.
There are several interesting features of this drone – let's discuss them in detail in order to understand the working of this drone. The following are the features of this drone.
Features
It can record 720p HD video footage at 30fps in MP4 format as well as captures 5 megapixels stills too. Tello drones can capture the stills with a field view of approximately 82.6°. This drone provides good quality pictures and videos both at the same time.
This drone has a flight distance of 100m. It moves at a speed of 8m/s.
Flight time is almost 13 minutes. It can work continuously for 13 minutes and therefore provides you a good flight time. For 13 minutes it can work in a good way.
The overall weight of this product is 80g. It is very compact and you can take it with you anywhere you like to. Its weight is one of its best features. It is durable yet light in weight. Its durable software and hardware make it a perfect choice for you to fly it with confidence.
DJI Tello quadcopter drone has several built-in functions which include a rangefinder, led, vision system as well as built-in barometer. It is an impressive little drone for kids and adults.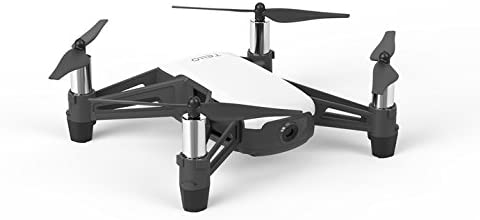 Tello has two antennas that make video transmission extra stable. The antennas are used mostly for capturing the signals in the air. They are important for a stable flight. Likewise, other drones can also work properly at different heights.
This product comes with three high capacity batteries. The batteries offer a long flight time and you can enjoy the video easily. Therefore if one battery finishes you can use the second battery in place of it. This will help you in doing your work continuously.
Tello Edu app is a mobile programming app. By using this app programming of the DJI Tello quadcopter has become more fun for the kids as well as for the youngsters. People command Tello to perform specific movements by using the coding blocks directly on their mobile.
This app has immensely improved the quality of working with DJI Tello quadcopter drones. Hence, most people prefer this drone instead of other drones.
Tello quadcopter drone has another amazing feature of flight control. The Tello flight controller has made flying easy and interesting. People can perform many new tricks by just tapping on the screen of their phone. Flying and capturing has never been this fun.
DJI Tello drone is equipped with a high-quality image processor that allows the user to capture not only great pictures but also good quality videos. If you don't know how to fly it you can download videos from EZ shots and share them with your family and friends. Similarly, the kids also can learn the tricks within no time.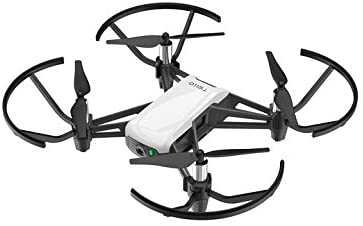 DJI Tello drone comes with a 4 port charger which means that you can charge 4 batteries at a time. Therefore it saves your time and you can switch to other batteries within no time. The charger also has a cable with it.
Propellers and Propellers guard
DJI Tello drone factory package consists of 4 pairs of propellers which means that there are a total of 8 pieces of propellers. Similarly, with the Propellers, there is also one set of propellers present in the factory package.
Therefore, the DJI Tello quadcopter drone comes with all the accessories and works exceptionally well. It captures incredible pictures and makes beautiful videos in the same manner.
Tools to remove propellers
The factory package also contains the tools which are used in order to remove the Propellers. Hence, you don't have to buy an extra kit to remove the Propellers from the drone. It is very easy and simple to remove them with the help of these specified tools that are made according to the size of the DJI drone.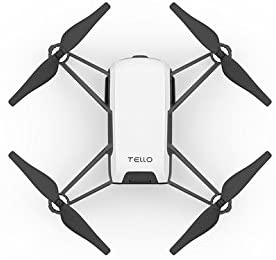 You might also want to read about DJI assistant 2: Complete User Guide