Bose Solo 5 Soundbar is an ultimate Audio System. With the Bose Solo 5, you won't have to worry about taking up much space in your existing setup. This audio system has a balanced and neutral sound profile, allowing vocals and lead instruments to be heard clearly. The small soundbar does not have a very loud volume and its integrated subwoofer is unable to reproduce low bass. Furthermore, it is Bluetooth-compatible, so you will be able to stream audio from your phone or tablet to the bar wirelessly. Let's do bose solo 5 soundbar review.
With its slim design, the Bose Solo 5 seems like it is made for people who do not have space for a soundbar system. With a length of just 55cm and a height of just 7cm, it's one if not the shortest soundbars we've ever seen. The low profile of this soundbar speaker makes it perfect for those looking for something to slip under their main TV, or who want to amplify the sound of their smaller bedroom TV.
With so many soundbars in the market, it is difficult to choose the best one. That's where we play our role. We have done intensive research and found Bose Solo 5 Soundbar as the best Audio system. We have done this review so that you may not have to waste your time looking for the best soundbar system.
Bose Solo 5 Soundbar Review:
The box comes with everything you need to use. Bose Solo 5 Soundbar System comes with the following accessories:
Mounting kit (if purchased with it)

Bose Solo 5 TV sound system

Universal remote control

Power brick and Cable

Universal Remote

Optical digital audio cable

Batteries

User Manual for the Speakers
Regardless of the brand, the set-up of a technology product can make a significant difference in how well it is received by any audience. Whether it's Bose, Samsung, or other brands, a review should discuss how it's mounted. Therefore, when it comes to setting this soundbar up and connecting it to your TV, it is very easy.
You can enjoy the superior sound of all your favorite TV shows with the Bose Solo 5 TV sound system, which is a one-piece soundbar. From dialogues to details, it helps you reproduce everything exactly as it is. In addition to that, the dialogue mode will make it easier to understand every word. The soundbar is so versatile that it can be placed almost anywhere. Furthermore, you can connect Bluetooth-enabled speakers to your favorite wireless music system.
Flat-screen TVs are stunning to look at due to their sleek design. Unfortunately, there is not much room available for speakers. Dialogue and quiet passages can be especially difficult to hear because of this. A convenient TV sound system, the Solo 5 TV sound system connects to your TV and delivers clear, high-definition audio that your TV cannot deliver. Furthermore, dialogue mode makes understanding every word even more simple, without having to adjust volume from scene to scene.
When hearing distorted sound on the television or soundbar, ensure that cables are securely connected. Troubleshoot if the soundbar is connected to a TV output labeled variably reduces the volume of the TV. The soundbar's audio settings should be adjusted when it is wall mounted. If the soundbar is removed from the wall, run the process again to restore its default audio settings. After disconnecting the power cord, reconnect it after at least one minute.
Build: As far as design goes, the Solo 5 is pretty simple, designed to sit beneath your TV (or wall-mounted, if you prefer) without much fuss. Its design keeps it simple, with a black grille in front and black plastic panels on top and sides, which helps it feel solid and light.
With its simple design, the Bose Solo 5 is easy to use. In addition to its compact, lightweight design, the case is made of tough plastic and has a metal grid. This small soundbar fits under most TVs because it measures only about 21 inches long. You can also purchase a wall mounting kit if you prefer. This will save you some time and effort when you mount the device.
Two drivers are located behind the grille, angled out slightly to expand the sound field. They are positioned in the center of the unit. There are a few LED status indicators that illuminate and change colors when certain functions are enabled. The LEDs will also blink to let you know when you change the volume.
Controlling the soundbar is accomplished through a large remote control that feels a little chunky at half the size of the soundbar. The reason for this is that in addition to working with the soundbar, it can also be used as a universal remote for your TV, Blu-ray player, and any other infrared device.
In terms of connectivity, Bose provides what we expect for this price point, offering optical, coaxial, and auxiliary inputs, as well as Bluetooth connectivity. This soundbar comes with several neat features, such as its auto-wake feature, which will turn the soundbar on whenever an audio signal is detected. Sixty minutes of inactivity will result in the device turning itself off automatically.
In terms of functionality, Bose keeps things pretty straightforward. It doesn't offer an endless number of sound modes, EQ options, or settings to choose from – it's plug and play, and in that regard, it does a good job.
Use the optical cable included in the box (the recommended connection, though a coaxial cable is also included) to connect the Bose Solo 5. The only thing you need to do is make sure your TV speakers are off – you'll find that option somewhere in the sound settings of your TV.
This Bose Solo 5 doesn't have a display. This remote control doesn't have any controls either, since it is intended to be used with remote control. Soundbars sit comfortably next to TV screens and don't have a lot of height, so you can place them on your entertainment unit. Since the input connections are located at the back of the soundbar, it's important to make sure there's some space between the bar and the wall.
Despite being small compared to most other soundbars (in terms of width), the Bose Solo 5 has a solid build and is easier to place. It also features a minimalist design, making it easy to blend into any interior. Overall, the Solo 5 is a basic soundbar, meeting your needs with an outstanding design without all the unnecessary bells and whistles.
Sound: Whenever you turn on the Bose Solo 5, you will notice its dimensions from the very beginning. It is worth keeping in mind that the size of your TV will affect how much of a difference it can make and that a smaller TV will benefit more from the Solo 5 than a larger one.
Become immersed in Gravity on Blu-ray by hooking up the device to a 32-inch Samsung TV. From the jump, the Solo 5 sets itself apart, adding a decent level of volume to the TV's native sound and adding clarity and weight.
The voices are projected more clearly and with more precision (to a point that you will feel no need to use the dialogue mode included). The sound of the overall presentation has a little more body and solidity, eliminating the thin, harsh sound typical of slim TVs. With a controlled, crisp treble, the midrange is focused and direct.
If you look deeper, however, you will find little more to it. Even though there is more weight than most televisions can offer, the bass still falls short compared with other televisions. In other words, the Solo 5 doesn't have the punch or impact to give big explosions or action scenes any sense of punch. Although a bass boost option can improve the low-end sound a little, it also sacrifices some midrange clarity.
Though the bass boost is turned on, you will find yourself wanting more, and although there is additional weight, there is no real presence. Similarly, it is underwhelming elsewhere as well. It doesn't offer significantly more detail than your TV does on its own, and it falls short when it comes to creating a sense of tension or excitement using the soundtrack.
When it comes to music, you can simply select the Bluetooth icon and pair it with the Solo 5 without a problem. As with movies, Spotify streams are delivered with adequate clarity and solidity, but they also have a similar feel. Detail is lacking, bass could be harder hitting, and the music is far from engaging due to its lack of dynamic characteristics.

Features of the Bose Solo 5 Soundbar:
Bose Solo 5 Soundbar has the following features:
Subwoofer: There is no wireless or wired external subwoofer with this model since the subwoofers are built into the speakers. As a result, you get relatively deep and rich bass without the need for a subwoofer.
There are no options to add an external subwoofer to your system if you wish to do so. In addition to providing added bass to the music, this soundbar would have also provided a subwoofer. Furthermore, although it can decode Dolby Digital audio via the optical port, the sound will be processed in a less effective manner.
Sound Quality: Bose knows sound, and this lightweight speaker is more powerful than TV speakers despite its small size. A Bose soundbar's frequency range is 61 Hz to around 19 kHz, making it suitable for boosting even the sound of small TV sets such as forty-two screens.
In order to get better sound from your speakers, you would have benefited from an external subwoofer if you love deep and thunderous bass. However, it can still emit the right tones accurately despite the speaker size and the lack of bass depth. So despite the lack of bass depth and the small speaker, the Bose Solo 5 TV sound system is still a very precise and accurate soundbar.
In spite of the lack of a dedicated sub and the lack of many bass speakers, the soundbar lets you customize the bass levels to your liking using the included universal remote.
A soundbar can produce around 87 dB of volume, which is a lot of volumes. No soundbar of that small size can provide that kind of performance as Bose Solo 5 Soundbar does. Additionally, this product has minimal harmonic distortion. Even when played at a higher volume, the TV soundbar sounds clear and crisp.
Due to the lack of rear speakers, this soundbar is not able to generate surround sound, unlike the best available Dolby Atmos soundbars. The sound quality nevertheless remains impressive in spite of its absence.
Due to the dialogue mode, the dialogue on your movies and TV shows will sound crisp and clear, no matter which audio mode you select. Cinephiles will appreciate these dialogue modes because they make the sound much more natural.
Sound Customization: It received a 4 out of 10 ratings in our test of sound customization, which was one of the lowest we have ever seen. Only two adjustment options are available. It is possible to turn on a dialogue mode and alter the volume of the bass. Dialog mode is pretty much the same thing as a reduced bass setting, so these voices sound better in the midrange, where the majority of human voices fall.
Channels: Due to this soundbar's 2.0 configuration, it is difficult to do surround sound with it. To explain the digits, the first number represents the number of channels your soundbar has. Additionally, the second number relates to how many subwoofers it contains. There are only 2 channels on this 2.0 soundbar, and there is no subwoofer.
A channel tells you how many loudspeakers are in the system (which is two). A 2-channel soundbar usually means that it has one left and one right speaker. It is true that the soundbar's channels are situated left and right, but both are located more toward the center.
Consequently, there is not much stereo separation or directionality. It means you have only one direction of audio hitting you. In order to simulate surround sound, you need at least five channels (left, center, right, and two at the rear). Several Bose soundbars have four speakers, including the Solo 15.
Connection: There are a few inputs and outputs available on the Bose Solo 5. Using this unit, you can choose between the analog (3.5mm) and optical audio inputs. A coaxial input is also included in addition to the optical audio input. The HDMI ports and the USB are absent from the device.
You must ensure that any product you purchase supports optical, coaxial, or another cabling due to the lack of an HDMI port in the Bose Solo 5 TV sound system.
Bluetooth: There are now many soundbars that offer wireless connectivity that lets you pair them with other Bluetooth-enabled devices. Bose's TV soundbars can still deliver fantastic sound quality, and you will experience little loss of quality when audio is transferred from your device to the soundbar.
Your Solo 5 TV soundbar allows you to stream music and podcasts directly from your mobile device. Furthermore, using Bluetooth to connect will eliminate the messiness of wires and cables and clutter in your living room. Having this feature can also be seen as an advantage of the Solo 5.
Controls: A remote control is included with this soundbar. The handheld remote controls your TV, DVD player, and soundbar all at the same time. Also, the universal remote can be used to adjust any device connected to your TV.
Universal remote controls eliminate switching between remote controls for different devices, so it's convenient to have one remote control for everything. As a result, the device makes an excellent soundbar for use with projectors. It can be confusing to have to remember which remote is for which device, and sometimes you may think you have turned a device off when you have not.
The soundbar may not have a variety of sound modes, including gaming, movies, TV shows, news, music, and more, but using the dialogue mode can increase the quality of movie sound.
The Solo 5 is a simple soundbar for TVs, so it has no displays or control buttons on the front. Changes in volume and other preferences must be made with the universal remote control.
Our review of the Bose Solo 5 revealed that the remote operates in a very intuitive manner following various tests. The buttons are clearly labeled, and it's very straightforward. Remotes should be easy to understand since that is what all remotes should do.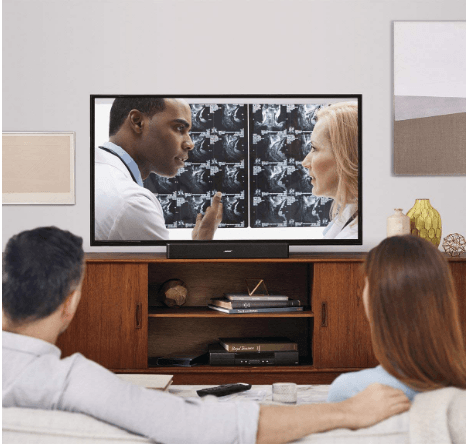 Following are the other features as claimed by the manufacturer:
Listen to what you have been missing: Get HD picture quality with the right sound effects and enjoy the enhanced dialogue, an enhanced soundtrack, and better bass.
The secret to the sound: With its advanced technologies and easy setup, the Solo 5 TV sound system delivers clear audio that your TV cannot. As a result, you won't need to adjust the volume from scene to scene since dialogue mode enables you to understand every word.
Flexibility in placement: Soundbars can be placed anywhere to complement a room. For example, they can be placed by your TV on a shelf or even installed directly on the wall using the optional WB-120 wall mount.
Setup is quick and easy: It's probably not a good idea to use the word "setup." All you have to do is connect the Bose Solo 5 to your TV with an audio cable, which may be optical, coaxial, or analog according to your preference. Depending on the type of music you play, the soundbar will detect it.
Universal remote: Control your Blu-ray player, Bluetooth connectivity, and gaming system with the universal remote included with the set. Access to most video sources connected to your TV, as well as the system, is easy.
Unleash the bass: Gripping thrillers. Live music. Dramatic series. Occasionally, you just need a bit more bass while watching television. So now you have control over the bass by using the remote to increase or decrease the volume.
In Bose's Solo 5 TV sound system, you get one soundbar for all your favorite TV shows and it delivers distinctly improved sound quality. From dialogue to sound effects, it brings clarity to your audio. Moreover, its dialogue mode makes each word clear and easy to follow. A soundbar like this can be positioned virtually anywhere. Additionally, it has built-in Bluetooth technology, so you can enjoy your favorite music wirelessly. The amazing features of the Bose Solo 5 Soundbar can be summed up in the following points:
In comparison to your TV alone, the soundbar provides superior sound quality

Every word and detail will stand out in the dialogue mode

The Bluetooth feature allows you to stream music from other Bluetooth-enabled devices

You only need a single connection to the TV

TV, bass, and Bluetooth connections can all be controlled using this universal remote
What do we like about Bose Solo 5 Soundbar?
It's small and compact

A user-friendly interface

Includes universal remote control

A good deal of clarity to the dialogue

The slim design makes it easy to store

It is wall-mountable and can be positioned anywhere

Excellent sound quality

High volume with minimal distortion

The device supports Bluetooth connectivity

Easily adjust the bass

Easy setup with everything you need to be included

Easily affordable
What we dislike about Bose Solo 5 Soundbar?
Display not available

Each time the user wants to hear clearer audio, the user would need to press a button

The punch is missing

The sound field is narrow

Very little dynamic

There is not a great deal of improvement in sound quality compared to standard TV
Conclusion:
We have presented you with an in-depth review of the Bose Solo 5 Soundbar. We have discussed almost each and every feature, pros, and cons of the Bose Solo 5 Soundbar. We are sure that this review will ease out your decision of buying the best soundbar.