Humans have been recording their eras of survival in the form of writings and drawings for ages. Though the writings may not truly depict the real meaning of a panorama, a drawing can. With new inventions and innovations in technology, carved paintings and portraits have been mainly replaced by magnificent tablet-based drawings and illustrations.
When it comes to choosing the best tablet for graphics drawing, there come a variety of options for choosing the best tablet for this purpose. That's why we are here to assist you in picking the best tablet for you.
We have done intensive research and found that Huion has the solutions for all of your problems. Huion uses electromagnetic handwriting input technology as a fundamental technology and it has developed applications and products in various fields such as digital panels, digital screens, graphic drawing tablets, pen tablets, pens, copy boards, electronic school bags, and other electronic gadgets.
We have tested various graphics drawing tablets with an active pen and found that Huion's Kamvas Pro 13 is the best fit for all of your needs. So, just sit back, put on your headphones and enjoy your drawings.
Huion Kamvas Pro 13 Review:
Following is the ultimate and detailed Huion Kamvas Pro 13 Review: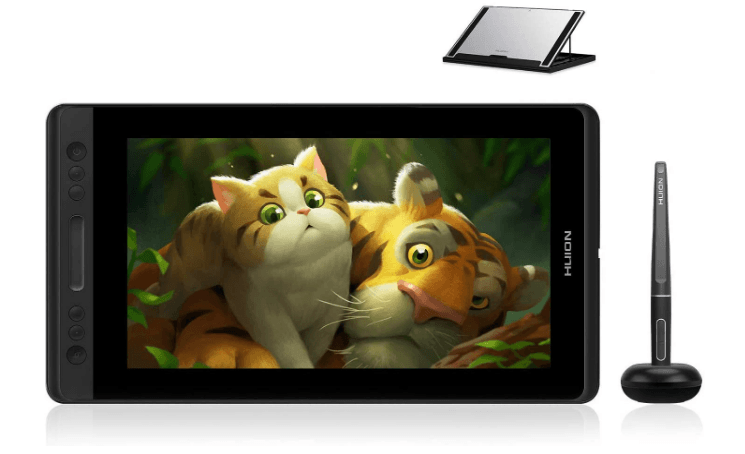 What's Inside the Box?
Huion Kamvas Pro 13 comes with a great-looking black box that has a preview of the Kamvas Pro 13 drawing tablet on the front side. If we look inside the bag then here we can see that everything is perfectly and safely packed in the box.
This black color box is made of great quality material and the package as a whole weighs 5.66 lbs or 2.57 kg.This professional tablet comes covered in a thick transparent sheet which gives an idea that Huion takes great care of quality. Accessories that come within this box are as follow:
Huion Kamvas Pro 13 Tablet

Digital battery-free pen PW507

Adjustable Tablet Stand

Three in one combined Cable

Pen Stand

Power Adapter

Plugs

Pen Nib replacements (10)

Pen holder

Nib Clip inside the holder

Microfiber cleaning cloth

Driver installations CD shaped user instructions

Thank you card

Quick start guide

Warranty Card

One artist Glove
Huion takes special care in designing all its accessories and guarantees that all of its products are manufactured with high-quality material. Huion Kamvas Pro 13 drawing tablet comes with a pre-installed screen protector which you must remove before using the tablet.
Design & Build: Huion has a slight smart edge in terms of its designs. Huion Kamvas Pro 13 graphic tablet has a sleek and stylish design. The kamvas professional 13 has an amazing display size and dimensions which makes it useful to be carried around in a regular bag or in hand. The touch bar comes with various modes like pen size, zoom in or out, etc.
If you look at its smooth plastic-made front panel, you will find that apart from its six shortcut buttons, the tablet is completely covered with a single unique anti-glare sheet of glass. There is no visible crease that distinguishes between screen and bezels. This feature gives a modern and sleek look to the tablet.
The rear panel of the Kamvas Pro 13 is made of anodized aluminum which provides structural strength thus making it easier to hold. The metallic rear also enhances its durability. The rear panel also has two rubber straps thus providing an extra grip.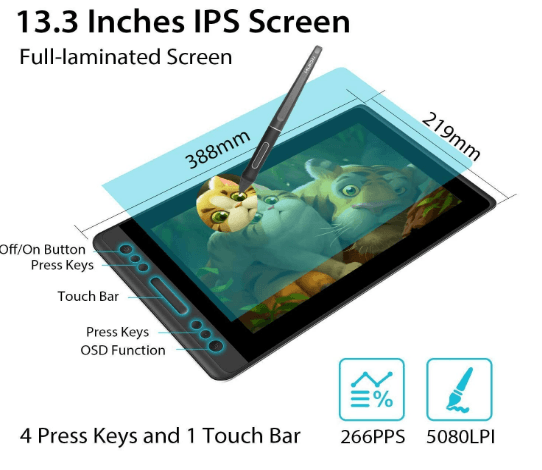 Display, Color, and Resolution: The display is one of the most important parts of a drawing tablet. It's the central part where all the actions and activity takes place. Having a better screen helps in a much better and accurate drawing.
While most drawing tables come in an 8 inch tablet size, the Huion Kamvas Pro 13 GT-133 has a 13 inch IPS LCD which looks great. The display of the tablet is covered by a top-notch quality layer of Anti-Glare coating. The Anti-Glare coating is very helpful for individuals who have to work constantly in front of the screens.
If we talk about its screen resolution, the Kamvas Pro 13 has a screen resolution of 1920 x 1080. The bright screen of the Kamvas Pro 13 GT-133 is much sharper, and clear because of the compact and perfect display which means higher pixel density. Amazingly viewing angles are stunning and great, however, due to the anti-glare coating, the display appears dark.
The color setting of the tablet out of the box impressive and great. If you are not happy with the settings, you can always return the settings to default by going to the Other and Reset option. No need to feel afraid to play around with the OSD settings to find the right colors for you.
Drawing performance: Amazingly, the overall drawing performance of Huion Kamvas Pro 13 is fabulous. Pressure sensitivity and tilt sensitivity works perfectly. Lines appear just the way an expert and a beginner can expect. There's no line jitter. Pressure can be held consistently to draw lines with uniform thickness.
There's no lag with any of the drawing apps we' 've tested on both Windows and macOS. The matte drawing surface and laminated display also make the drawing experience impressive. There's the tactile feeling of drawing on the surface and the lines appear directly beneath the pen tip without any gap. The Huion Kamvas is a little over the top as compared to the budget friendly tablets, but its features make it worth the splurge.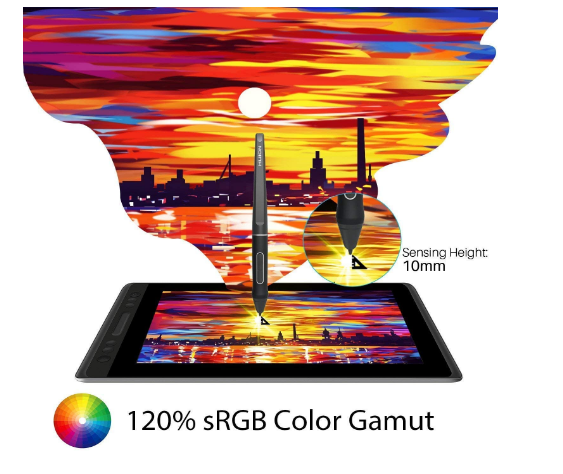 Compatibility: The Kamvas Pro 13 is compatible with Windows 7 or later and Mac OS 10.12 or later, Chromebook (ChromeOS 88 and above) It is also compatible with mainstream software like Adobe Photoshop, clip studio, paint tool, and others.
It is also useful for online teaching and other working purposes. You can find it helpful in meeting all your needs for every subject with online tutoring software. It also has PowerPoint, Word, OneNote, PDF pre-installed in it. The Kamvas pro 13 works more efficiently. You can also use Huion Kamvas pro 13 for online conference purposes, web conferencing, and many webinars.
Other Features
Huion Kamvas Pro 13 offers plenty of useful and interesting features which make drawing fun. While some of the functions are helpful, other features are there to be used only when felt necessary. While using the tablet, we never felt that any major or necessary feature was missing. Let's take a look at some of the key features of the drawing tablet.
Battery-Free Pen:

The Kamvas Pro 13 comes with an amazing and innovative battery-free pen PW507. Since there is no battery in it, the pen doesn't need any recharging or battery replacement. What's impressive is the fact that the pen works well and is on the same level as the other high-quality, battery-powered drawing pens. The tablet comes with a silicone sleeve on the pen which provides a smooth and strong grip.

The tablet also comes with a useful

doughnut-shaped pen holder

PH05 which holds the pen in a vertical position.

Ten extra

nibs

also come with Huion Kamwas Pro 13 drawing tablet.

120%

sRGB Color Gamut

– Comes with 266 PPS Report Rate, you can have better performance and quicker response when working on the pen display.

The drawing monitor does not only provide users with a wider field of view but also offering

richer colors

and more

natural transitions.

Huion's Kamvas pro 13 tablet also comes with ten nibs.
How to set up Huion Kamvas Pro 13?
Setting Kamvas Pro 13 is quite easy and simple.
Huion Kamvas Pro 13 GT-133 Tablet has a three-in-one port to connect with the laptop and power. The second one for the laptop, the HDMI port, and the USB port, and the rest one is for power

The power port is then connected to the adaptor. There is a little bulge on the port, which helps in making a tight connection.

After that turn on the tablet, there you'll see the desktop of your laptop. The display quality is very impressive.

Without installing the driver, you can still draw on pressure sensitivity.

The shortcut keys are only enabled when the driver is perfectly installed on your laptop.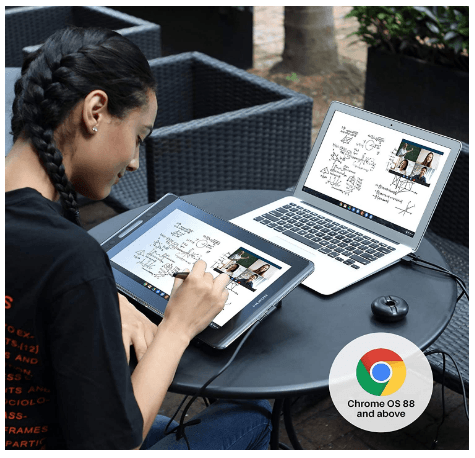 FAQs
Should I get the Huion Kamvas Pro 13 drawing tablet?
Yes, the Huion drawing tablet is very well built. Along with that, the performance level of the drawing tablet and active pen is superb. Moreover, it doesn't cost much as compared to the features that are provided.
How long can this tablet last?
This tablet can easily last for five years without creating any fuss. Also, with proper care, it can last for some more years. Besides, if you are a beginner, then we will highly suggest you consider this tablet.
Is it necessary to use a Huion tablet with a computer?
It is one of the mostly asked questions. Yes, the availability of computers is compulsory. The Huion tablet is not a standalone device. So, you just need a computer to use the Huion tablet.
Conclusion:
We recommend this tablet to anyone interested in it. It has a fantastic screen with great colors, a comfortable battery-free pen with pen tilt functionality, and a slim profile which makes it easy to take from one workplace to another. If you're looking for a good drawing monitor, We recommend the Huion Kamvas Pro 13 is a very compelling option.
Related Article: The best 8-inch tablets
Read more about the: Best Tablet under 200.