Lenovo active pen 2 is a second stylus pen in the generation of illustration and drawing pens manufactured by Lenovo. Before this version, there was another one Lenovo active 1 which got popular for its pressure sensitivity, performance, speed, accuracy, and maneuver of hand movements.
From the perspective of an artist, I would say that this AP2 has got many styles and even better features than its predecessor pen. Though the first version was and still is outclass yet it lacks some functionality that you need to make impeccable drawings on the glass screen.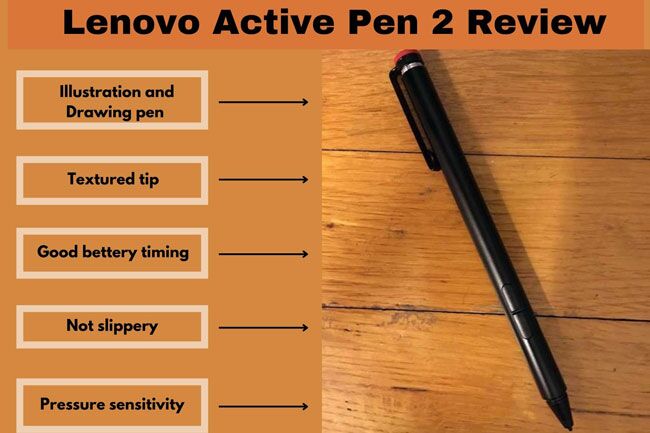 The Expectation from a Drawing Stylus
As an artist, you want to have more control over the moving stylus to make better graphics, lines, and geometrical shapes. Therefore it is important to pick an active stylus pen that glides smoothly on the screen without causing a barrier between your movement and the idea of the drawing itself. Losing control would mean losing flow to the drawing. It may halt the progress as you draw on the screen and leave you unsatisfied with the end results.
Many customers have bought Lenovo active pen 2 AP2 for Thinkpad X1 Yoga 2-in-1 and they are quite satisfied with the performance. You can write rather than type your text, make doodles, draw on-screen, and draw illustrations on your Lenovo Thinkpad and tablet with ease and without obstruction with Lenovo's active pen 2.
Lenovo Active Pen 1 and Pen 2
As mentioned above there was an old version of Lenovo active pen 2 that exists but lacks a few more features that an artist looks forward to having on the active stylus. Fortunately, this second-generation lenovo stylus has it.

Read my review on Hisense h95nf, it is a budget-friendly television and screen. Brimming with the best features to satisfy your longing for HD graphics.
Textured tip: Lenovo Active Pen 2 is a digital pen that has more of a textured tip compared to pen 1, therefore it allows the artists to make lines, grids, and major drawings without feeling any pressure. The drawing will go smoothly, keeping you focused because the part holding the tip would not cause a barrier between your drawing and sight.
Clip gone: The old pen has a clip whereas the Lenovo active pen 2 does not have it. Additionally, it also features a back button. The build quality is impressive, way better than its predecessor version. Compared to a traditional pen, it has a metallic body to make it a valuable asset that you'd want to keep with you forever.
Battery time: Most customers complained about the old stylus because it did not last much due to over drainage of the lenovo precision pen battery. On the contrary, Lenovo active pen 1 still is powered by AAAA battery yet it has better battery life and it would last for months when taken good care of.
Not slippery: As the tip has been modified from plain to textured one, like a pencil, allowing more friction on the screen. Therefore, making even tough drawings has become easier with this new tip as it does not slip or make the user lose control.

Buy: Lenovo Active Pen at $54.11
Pressure sensitivity: As far as the pressure sensitivity is concerned, the Lenovo Active pen 1 has the same pressure sensitivity as two, but the 2nd generation supports up to 4,096 levels. Therefore, you can draw faster as the stylus would sense the hand movement with precision, allowing you to write texts quickly.
Although it was difficult to make precise diagonal strokes with the old one, with this new generation thinkpad pen you can make diagonal strokes, lines, and circles without feeling any jitter. Moreover, the palm rejection works magically and impressively.
Why not buy a table that features UHD graphics and an excellent touch screen, Dell Inspiron 15, 5000 is for those who want to have interactive touch laptops.
Technology: This new lenovo pen works amazingly as it supports and uses Wacom technology. The driver for the relevant software is always installed. So, no settings need to be made. However, you can still adjust the pressure sensitivity level of the Lenovo active pen 2 and do the settings as for the buttons. Digital painting and drawing is just so much fun with it.
Pairing: The problem with the first generation pen is that you need to connect it over and over. If you turn off the tablet and turn it back on, you have to pair the pen 1. On the other hand, Active pen 2 keeps itself on, as soon as you turn the table on it gets paired with the pen itself. However, to make this function work, do the settings via Bluetooth.
Data storage: The Lenovo active pen 2 comes with a USB pen storage holder so that you can protect your data and store it. Moreover, you get three additional tips included in the package. The pen has it all that you need to make your flawless drawings within minutes.
Buy: Lenovo Active Pen at $54.11
Conclusion
The Lenovo active pen 2 is a revolutionary upgrade to Lenovo active pen 1. The first version works really well, the second one, however, has a better experience to offer to those who use their tablets for creating artistic drawings, graphics, digital drawings, and illustrations. The pen is worth buying because it has all the features that a high-end MS stylus or drawing pen comes with. You will love working with it because the pressure sensitivity is just so praise worthy.
Do you know Amazon fire tablets are the ones, so if you are an artist, drawing lover, or movie enthusiast you will love them?
Read more about Best Ultrabooks That Have Won Trend
Also read Lenovo Flex 15 Review- Affordable Dual Mode Design.