What is a Hard Disk (HDD)? A hard disk is a thin film of magnetic material is applied to the platters. With a read and write head, the magnetic of this film can be read or adjusted.
Because the platter rotates in circles at high speed, the read and writes head passes the same point several times per second. The reading and disk head then also move from left to right. This allows the read and disk head to reach the data on the inside and outside of the hard disk (platters).
The reading and writing head skims over the platters at high speed to measure the invisible magnetic differences for us. And translate this into 1's and 0's.
To give hard disks more storage space, several platters are placed in a hard disk. In the photo above, you see three platters on top of each other, with a reading and writing head in between.
The factories are also increasingly able to store more data on a platter using other techniques. As a result, not every flatter has the same data density.
To ensure that the read and write head hang as close as possible above the platters, new development is that hard drives are made airtight. They are then supplied with helium. The reason for this is that helium has a lower density than air.
The advantage of this is that there is less friction and hard disks are less likely to overheat. This also makes it possible to use more platters. Hard disks can then easily be fitted with seven trays for 3.5 ″ models (found in desktops). Due to the lesser friction, less energy is also needed to rotate the platters.
Hard disk speed
The speed of a hard disk can be interpreted in different ways.
1. The speed of how fast the platter is spinning
2. The speed at which the hard disk can read and write data.
Speed of the platters in RPM
There are two speeds that you encounter most often. That is 5400 RPM and 7200 RPM. This means with the 7200 RPM that the platter makes 7200 rotations per minute. So the platter spins 120 times per second. So that is very fast.
In contrast, a 7200 RPM hard disk makes more noise, higher energy consumption and more heat. That is why you often see that 5400 RPM hard drives are used in portable computers. After all, saving energy is the most important thing with a laptop so that you can use it for as long as possible without mains voltage.
Speed of reading and writing
The faster a platter spins, the more data it can read from the spinning platter. After all, with every turn of the platter, more data passes the read and write head.
But not every platter has the same data or data density. The amount of data that can be on a platter differs per manufacturer. As a result, a read and write head may see as much data per minute with a 5400 RPM hard disk as with a 7200RPM disk with a lower data density.
That is why we measure the speed of a hard disk when reading and writing data in MB / s (MegaBytes per second). We measure this both for reading and writing data because there is a difference in this.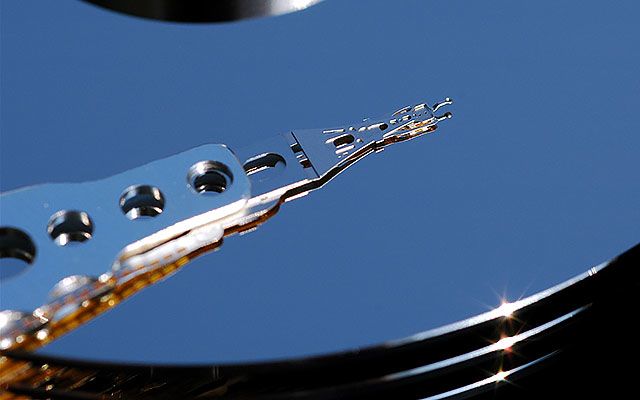 Speed of hard disk in MBs
I gave this overview to give you an idea of how many MB a hard disk can process per second. I have listed the 2.5 ″ and 3.5 ″ hard drives separately because the performance of a 2.5 ″ hard drive that you find in laptops perform less well than in a desktop computer. We also call this the form factor.
In addition, we often measure the speed of a hard disk in 3 ways. Sequentially, one after the other from beginning to end of the hard disk. 4KB, small files that often read or write an operating system and 1MB blocks of data.
A hard disk should always reach 60MB / s. Of course with the current SATA interface. Older hard drives still use IDE, a wide flat connection cable that can handle less speed.
For comparison, an SSD can reach 600MB / s. That is ten times faster in the wrong case. That is why an SSD is also a significant improvement over a hard disk when it comes to speed.
The access time of a hard disk
Another form of speed that you can measure with a storage device is the access time. That is the time it takes before a storage device can retrieve your requested data.
Because a hard disk contains a rotating disk, this always takes 8.3 ms. Because with a hard drive with a platter that runs 7200RMP, it takes 16.6ms before it has had a complete rotation. An average access time of a hard disk is therefore often 16ms.
For comparison, the access time of an SSD or eMMC memory is almost 0ms! The computer can (almost) immediately retrieve the data from the chip. And don't have to wait until the reading head is in the correct position on the platter.
Future of the hard disk
SSDs with large storage capacities are not yet affordable for everyone. But the price of SSDs will undoubtedly drop in the coming years. The SSDs with large storage spaces will also become accessible. If this is the case, the hard disk will probably no longer be sold.
But at the moment, a small SSD (512GB or smaller) for the operating system & programs and a large hard disk (1TB or more) for all your data is the ideal affordable combination.