Yes! You can observe a lot of noise cancellation issues with wireless headphones than wired headphones. The problem might be not properly fitting in and syncing between devices. Wireless headphones have short-range connectivity and sometimes buggy. Also, its battery limitation can be a constant means of headache while playing games for the long term. Here we have brought to you the Sennheiser pxc 550 wireless reviews that can give you relatively a good sound experience for your gaming.
Wireless headphones noise cancellation features found in many available models in the market. The basic principle behind the voice cancellation is the well-padded earphone that sits well on your ears. There is an upper limit set by the budget, and this factor limits good battery life and better connectivity.
Design Consideration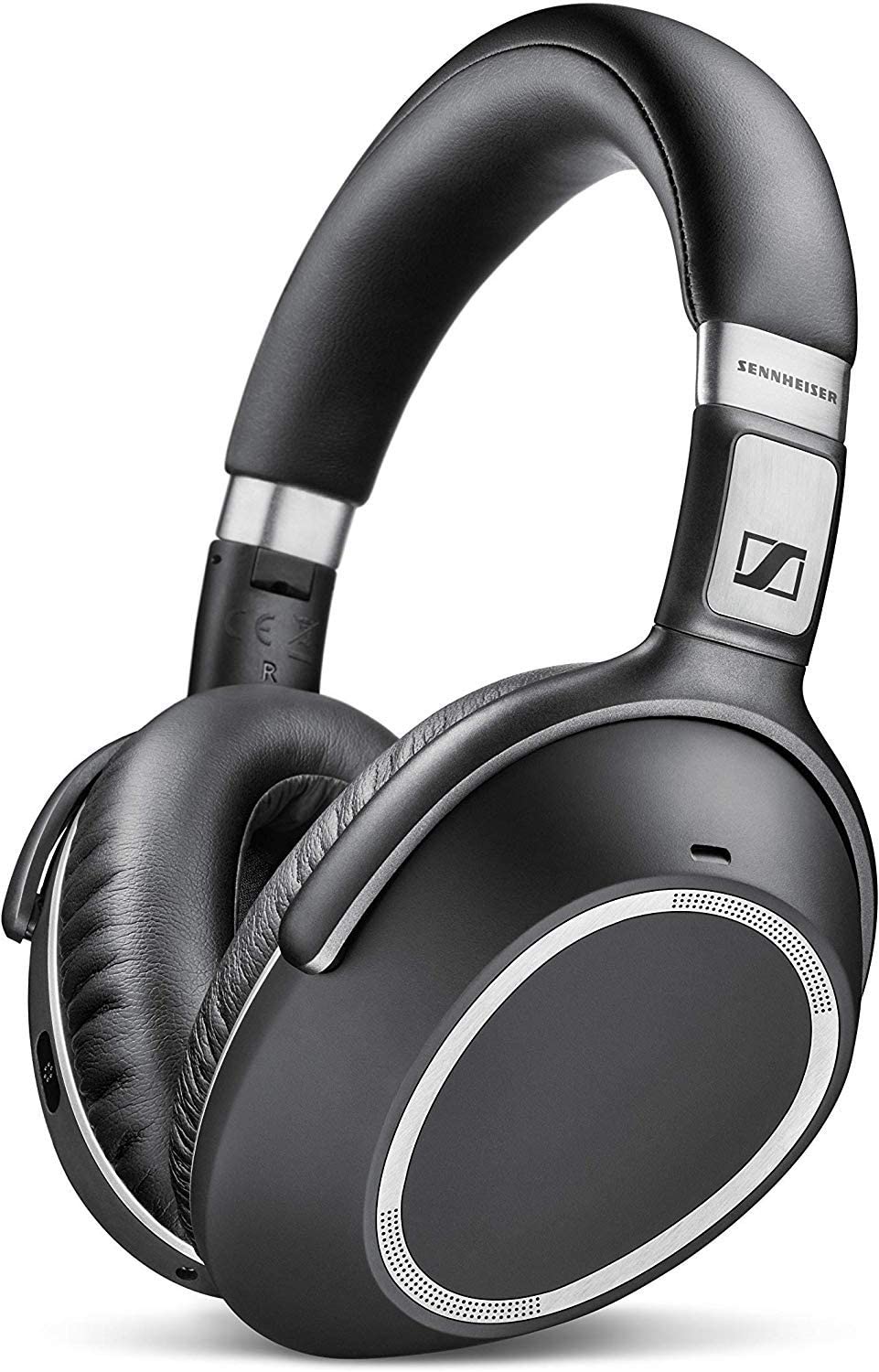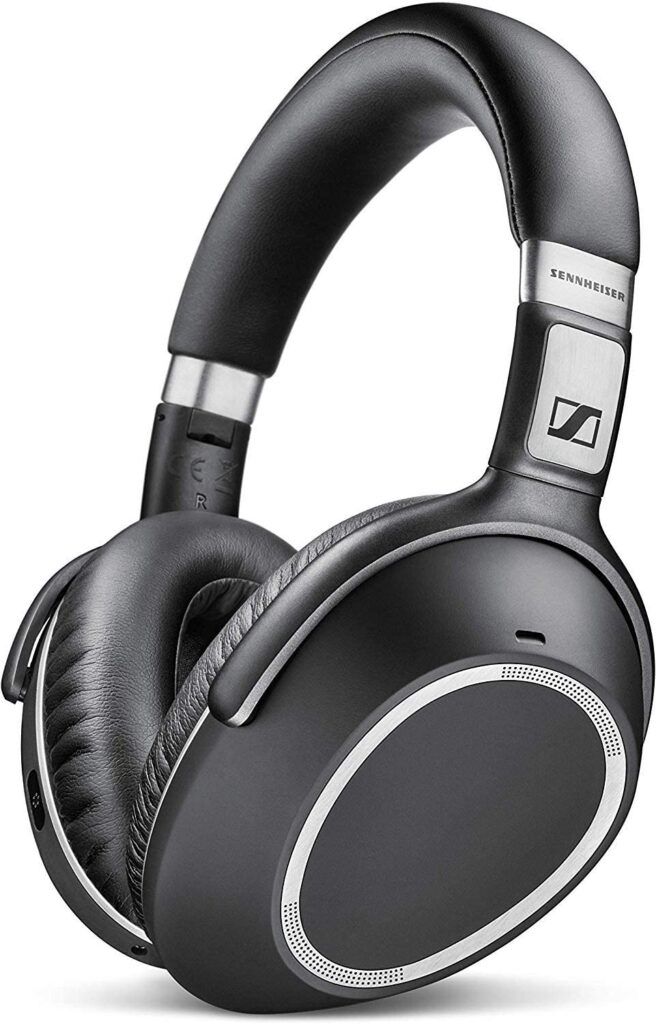 This conservative appearance headphone is not bad in design and has the ability to effectively cancel noises for a better sound experience. Its earcup consists of matte plastic and integrated with an oval-shaped metal band on each earpiece. This combination of material offers better voice cancellation and directional sound.
You will find its controlling buttons at the bottom of the right earcup. There is one dedicated button to switch between headphone's four equalizer modes and Bluetooth duty. And the slider allows you to control noise cancellation with two different options.
General Information
| | |
| --- | --- |
| Transducer Working Principle | Dynamic and closed back |
| Connection | NFC, USB cable with remote, Bluetooth 4.2 |
| Full charge time | 3 hours |
| Frequencies | 17 Hz to 23000 Hz |
| Impedance | 490ohms Active – 46 ohms passive |
| Wearing style | Around the ears |
| SPL ( sound pressure level) | 110 dB ( 1 Khz – 1 Vrms) |
| THD( Total Harmonic Distortion) | < 0.5% (1Khz and 100dB) |
| Item weight | 227grams |
| Comes up with | Wireless headphones – cable with remote – carry case – IFE adapters – manual |
Connecting Ports
You can charge the battery with the micro USB charging port. Also, it allows you to have wired connectivity with a 2.5mm jack with your devices. You can have touch control on right earcup of Sennheiser PXC 550 to volume up and down – and also for skipping soundtrack. You can use swiping up for increasing volume and swipe down for decreasing volume. Also, you can swipe left or right to skip forward and backward. When you single tap on touch place it will stop and resume the current opened track.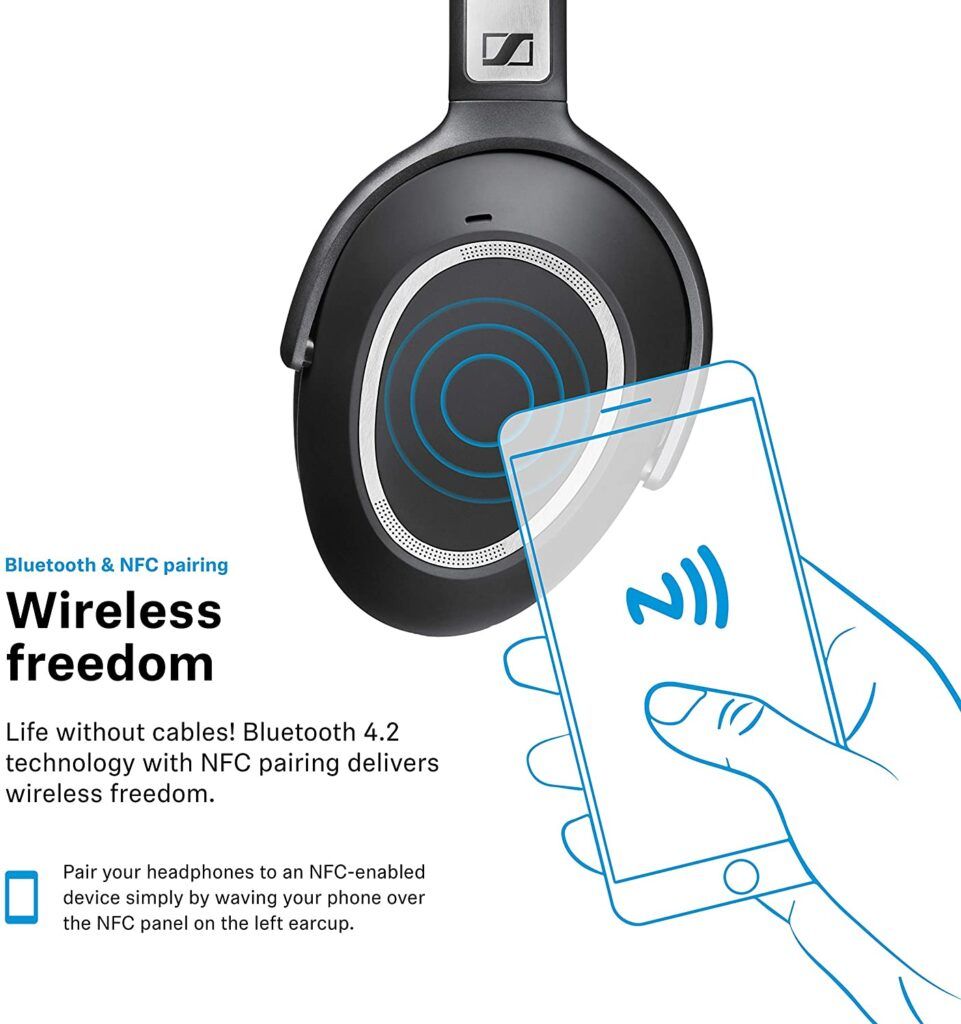 The battery life is not the issue with this Sennheiser PXC 550 wireless. I have used them continuously for several days without charging them. The company advertises to you, for one cycle of complete charge, you will have 30 hours of continuous runtime. Although I didn't notice the battery life, I never found the PXC 550 running out of the battery when I needed them.
Also, the Bose QuietComfort 35s alert you to their battery level every time. It means you will always aware when you will be going to running out of the battery.
Performance it offers
As I have tested many headphones and gave a comprehensive review of their testing aspects by spinning recent release from Red Hot chili peppers, the gate away. There is no doubt Sennheiser PXC 550 handles chili multi-layered sound very well. You hear vocals and instrumentation separately and you will be able to listen to soundstage pleasantly and broad.
You will find this headphone lacking in the lower spectrum of the base. These headphones will not serve you as expected and don't give undue influence to base notes. Instead, you can have a nice and crisp sound out of this Sennheiser PXC 550 with a mid-range of the base.

Noise Cancellation
Try listening to Saigo no bansan by mouse on the keys, you will be very impressed by how Sennheiser PXC 550 deal with compound drumming. You will hear lovely crisp hi-hat beat without any lagging. I have also tested these best wireless headphones with podcasts. It can serve you well on that but not at its best!
Sometime, while using headphones to listen to the podcast, the noise cancellation features won't work quite well and you have to turn up the volume to the safe limit. Fortunately, you can fix this podcast noise cancellation problem by switching to speech EQ mode. It will boost mid-range frequencies that furthermore allow you to hear human voices clearly.
As this Sennheiser PXC 550 comes up with two noise-cancellation levels. Unfortunately, there is not a big difference between them.
Touch Control – Right Earcup
After reviewing its noise cancellation feature, now it's time to have an in-depth look for touch control. You will start frustrating from touch control when you do anything more complicated. Adjusting volume is a kind of trial and error. And sometimes it activates volume control when trying to skip forward or backward with a left or right swipe.
I am impressed by three buttons at the bottom of the QuietComfort 35s, not so stylish but work amazingly well every time unlike Sennheiser PXC 550. Also, you can get good performance through either aptX or Bluetooth, but later feels more washed out compared directly with the former.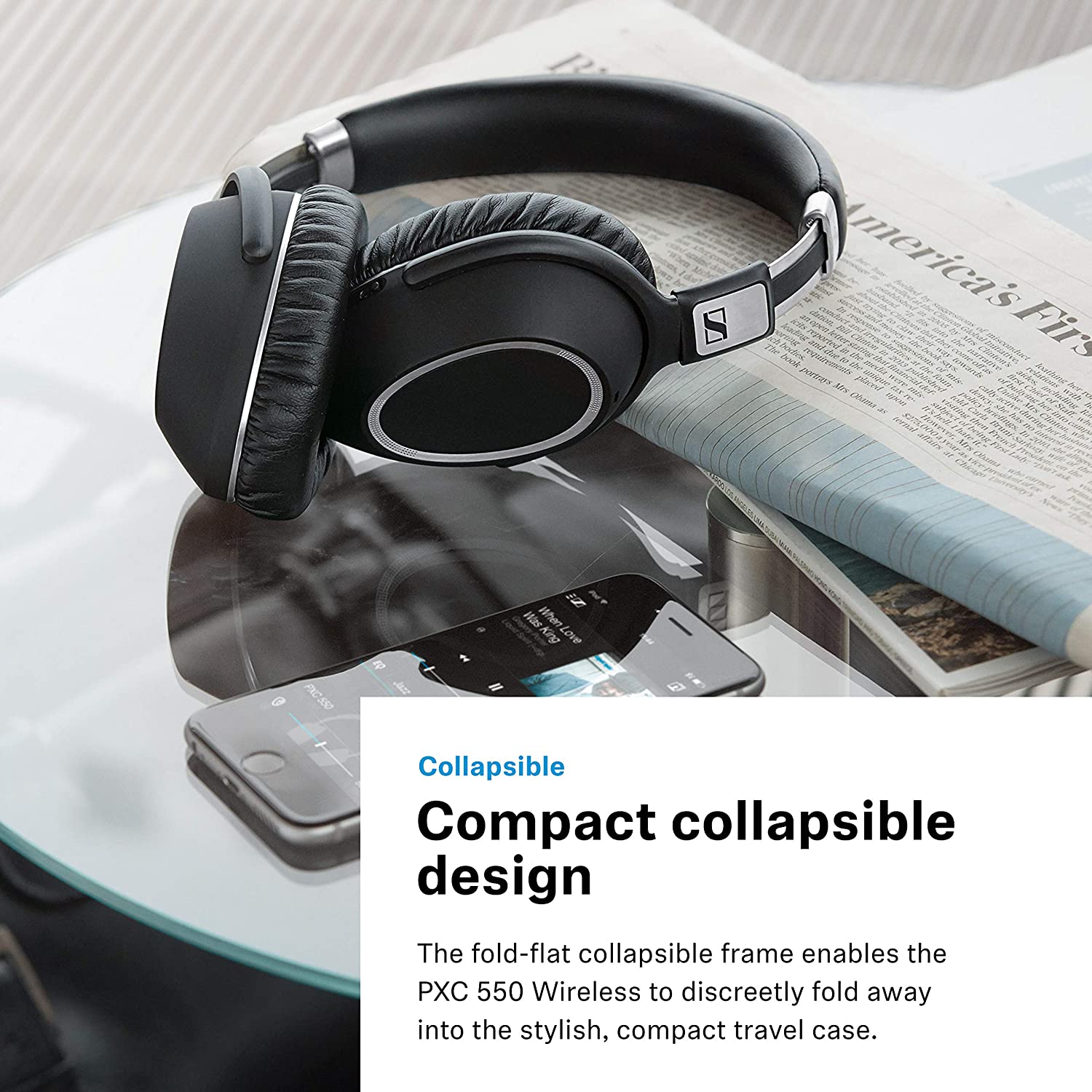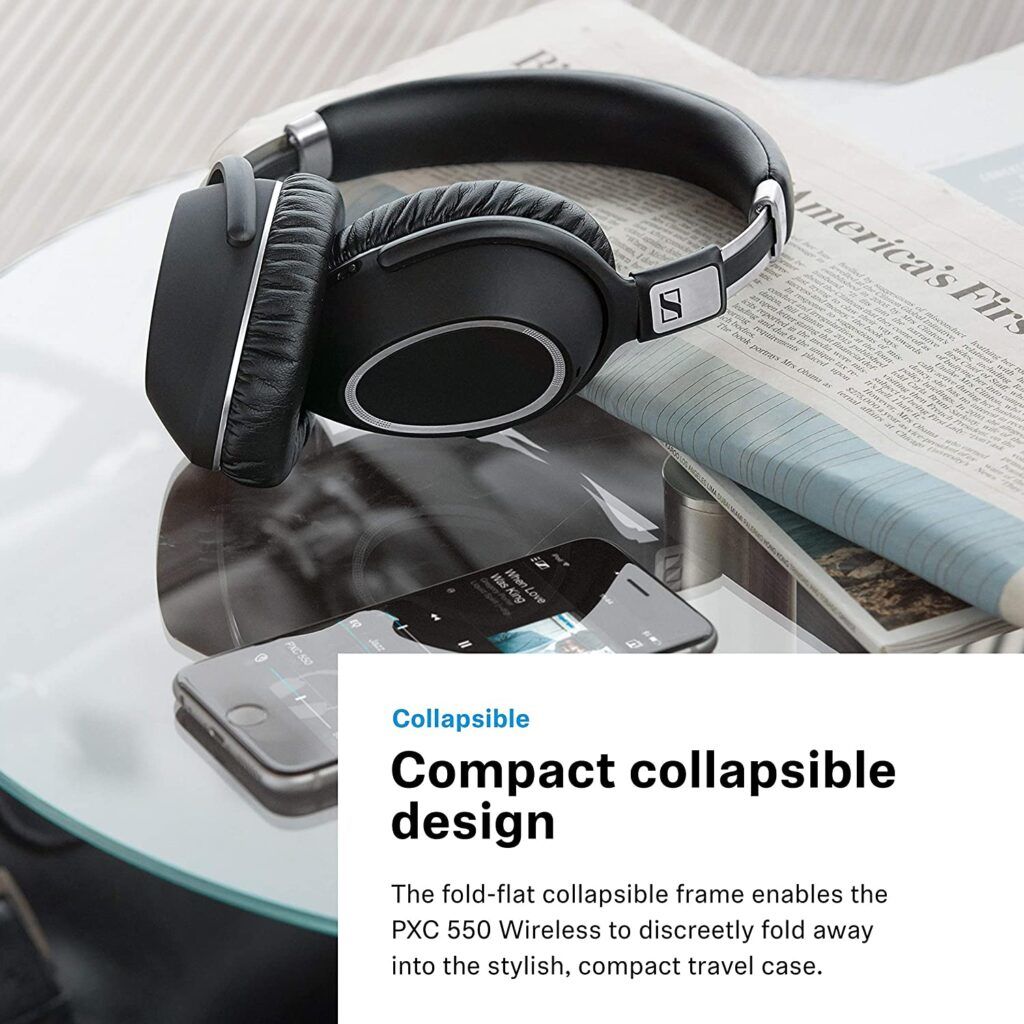 Final Remarks
Sennheiser PXC 550 wireless headphones show decent strength in their sound. You may find some best noise cancellation headphones but none of them can beat Senheirser PXC 550 in sound quality. But, there are a couple of touch control related irritations associated with it.
If you have more slop towards better sound quality above all else, these Sennheiser PXC 550 wireless headphones might serve you very well. But you have to keep in mind that you will sacrifice a few other usabilities in return.
>> You may also be interested in Skar Audio 12 Subwoofer for the best sound