In the field of technology, ZenBook from ASUS is one of the best-selling ultra-notebook. From the last few years, the ASUS ZenBook series expanded really large with different models in the market. All of these models have different specs and design configurations according to tech people's demands.
This is one of the best tech serving technology machines and is a legitimate competitor to many giant tech companies.
We will discuss here Zenbook series products that really got the attention and set some trends for upcoming notebooks. Like, ASUS ZenBook 13, ASUS ZenBook 14, ASUS ZenBook 15, and also ASUS ZenBook Pro duo.
Here we will describe all the pros and cons along with their design material and finally conclusion whether it is suitable for you or not. Now, you need to continue reading for a better understanding of ASUS technology.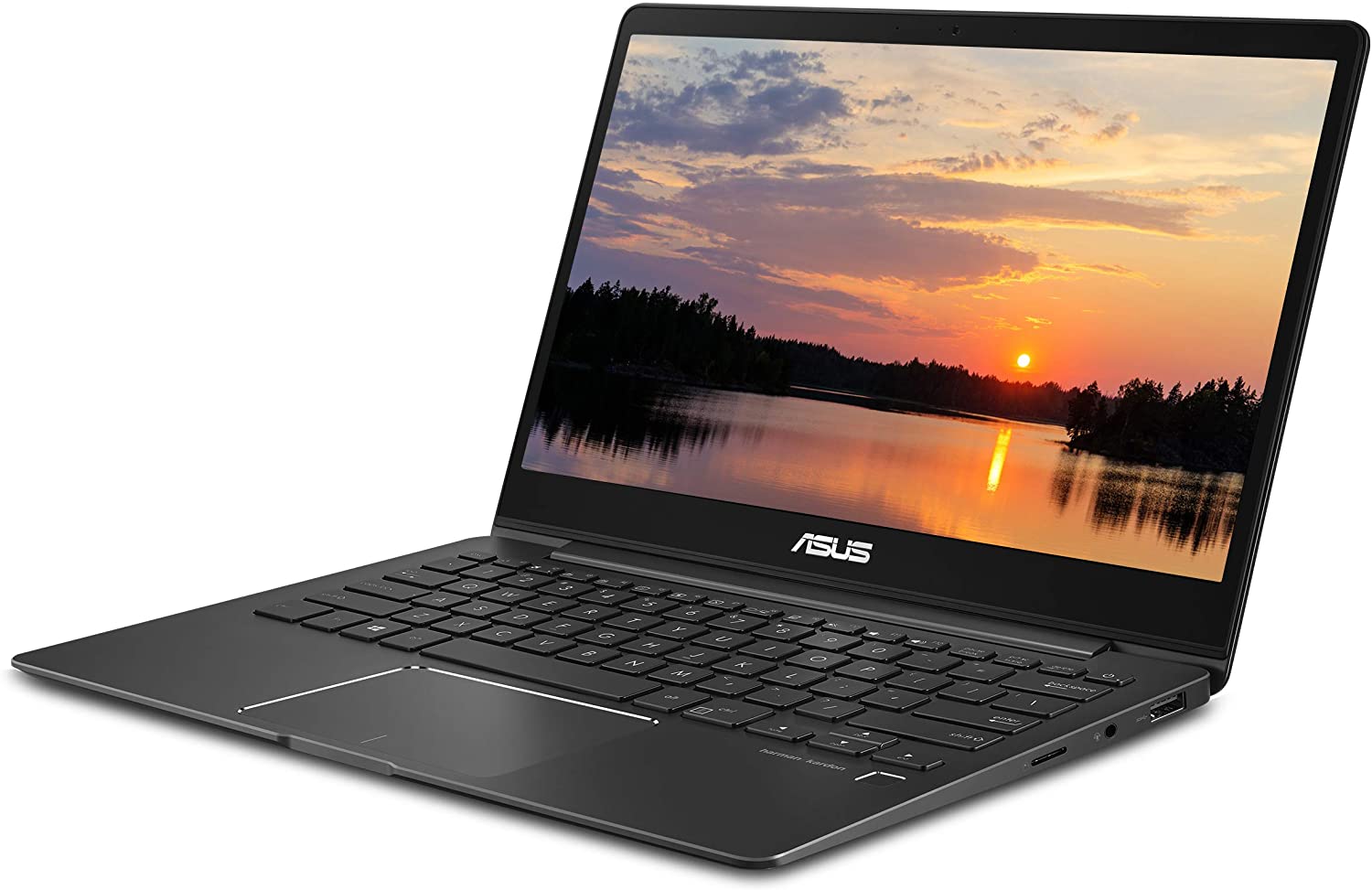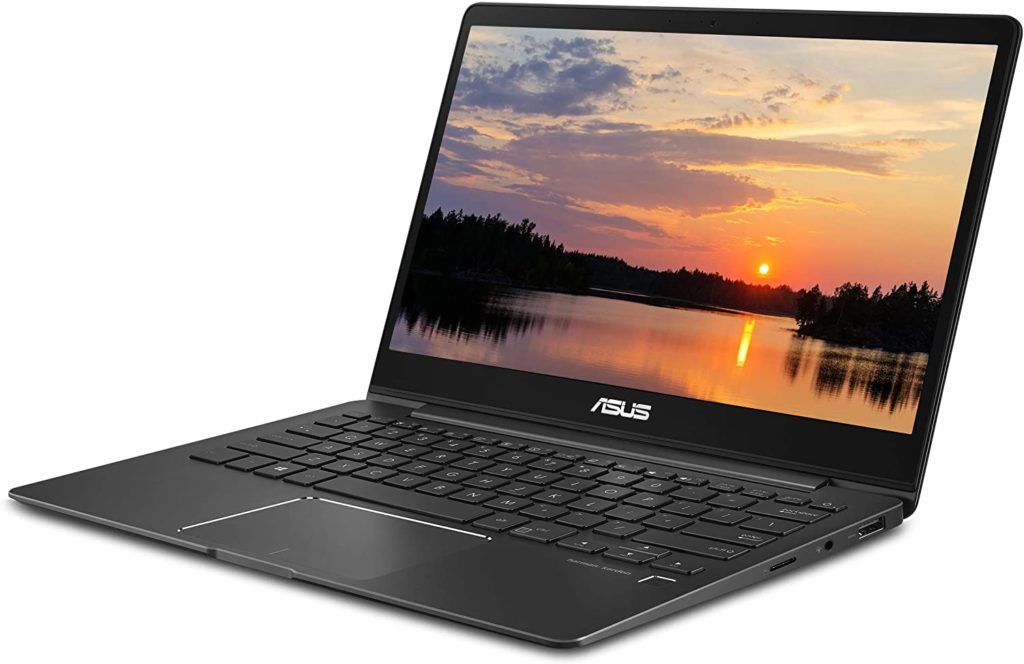 ASUS ZenBook 13 might not as nice as XPS 13, but still benefiting us with great performance and portability. For a few years, XPS 13 has the maximum market shares but great tech like ASUS ZenBook 13 is always side by side under the shadows of a giant one.
As the public demanded a slim and nice portable notebook then ASUS played its role to fill that gap. This Notebook is slimmer, more compact, and has a stunning look. It also offers great battery timings.
Specifications
CPU: 1.6GH Intel Core i5 8250U – Quad-core – 6MB cache – 3.4Ghz Turbo boost
Graphics: NVIDIA GeForce MX150 – 2GB DDR5 RAM – UHD Graphics 620
RAM: 8GB LPDDR3
Screen: 13.3 inches – Wide View 1920 by 1080 – touch display
Ports: 1 micro SD card port – 1 combo Audio jack – 2 USB ports Type A – 1 HDMI port – 1USB port type C
Connectivity: wifi 802.11a/c – Bluetooth 4.2
Camera: VGA web camera
Storage: SATA3 – 256GB
Weight: 2.5 pounds
Size: 12.2 in x 8.5 in x 0.5 in
Pros and cons
It comes up with an ultra-slim Premium design
It also offers great battery life with great display and performance
Display light is not so intense
The keyboard is a bit overcrowded
Reviews
"This laptop has everything I was looking for, like Full HD screen with no more than 13,3 inches, super battery life, silent and comfort keyboard with backlight (you can adjust it or turn it off when you are in well-illuminated places), amazing built-in sound speakers and a minimalist well-design metallic chassis.
The weight also is something very important to consider, and this machine is very light. It has the most important ports I use and the lid has an easy and smooth movement to open. Until now, the only thing I can think of as not so good aspect is the price. I think it should be around 850 CAD.
I would definitely buy another one if I needed/had money. It is a machine for work/study, not gaming, but you can enjoy some casual games as well."
Another customer says:
"This is a great little laptop. I love that it's super light and easy to carry around. It is an I7 that has a large 512 GB SSD hard drive. It's fast. The only thing that bothers me slightly is the trackpad is a bit too sensitive and you have to have your fingers in exactly the right spot to scroll. Also, the speaker isn't that loud. But overall, really happy with it. "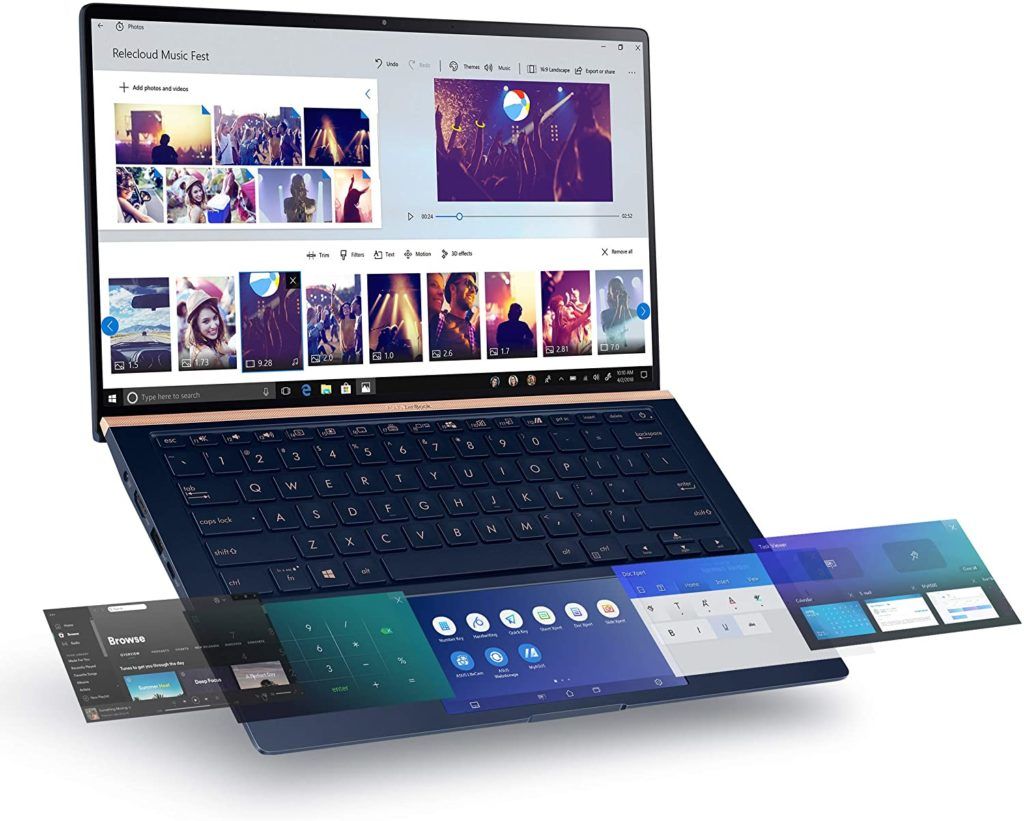 Maintaining its reputation ASUS launched another ultra-slim portable high-performing notebook in 2021 This was the year of great notebook tech machines but ASUS ZenBook 14 really standout. Its compact and slim design along with its excellent battery life attracted the market.
Although there are other great notebooks available in the market with a better design not so well with internal specifications. ASUS ZenBook 14 provided the book with great outer looks with excellent internal specs.
Specifications
CPU: 1.8GH intel Core i7 8565U – Quad-core – 8MB cache – 4.6 GHz Turbo boost
Graphics: NVIDIA GeForce MX150 – 2GB DDR5 RAM – UHD Graphics 620
RAM: 8GB/16GB LPDDR3 onboard
Screen: 14inches – Wide View 1920 by 1080 – touch display – anti-glare display
Ports: 1 micro SD card port – 1 combo Audio jack – 2 USB ports Type A – 1 HDMI port – 1USB port type C
Connectivity: wifi 802.11a/c – Bluetooth 5
Camera: 3D IR HD camera
Storage: SATA3 – 1TB
Weight: 2.18 pounds
Size: 0.63 in x 12.56 in x 7.83 in
Pros and cons
Great ultra-slim design and display
Excellent and user-friendly keyboard
Better performance
Round –pin power port
The placement of the power button is not ideal
Less battery performance than the previous model
Reviews
"First, I haven't had a new computer in 8 years so this computer is fantastic of course with speed, operating system, and ease-of-use. I have only been using a computer for two hours but so far so good.
The reviews on this computer were good except for the trackpad having issues. I have yet to experience this issue so maybe it has been fixed.
My one and only issue so far is the top of this computer is a fingerprint magnet that won't come off unless you use a cleaner specific for removing oils. But other than that nothing too drastic to complain about. If I remember I will update the review if anything changes."
Another customer says:
"I was worried about the coil whine and reported trackpad issues, but as I write this review I am sitting in a library and don't hear a thing, and the trackpad has been normal.
The graphics card (Intel UHD 620) was a pleasant surprise – system requirement slab will tell you it can't run bupkis, but it is deceptively good at running most casual games.
Battery life is okay – learn to disable several battery gobbling things (backlit keyboard) and it should last a good 9-10 hours.
All in all, a great product."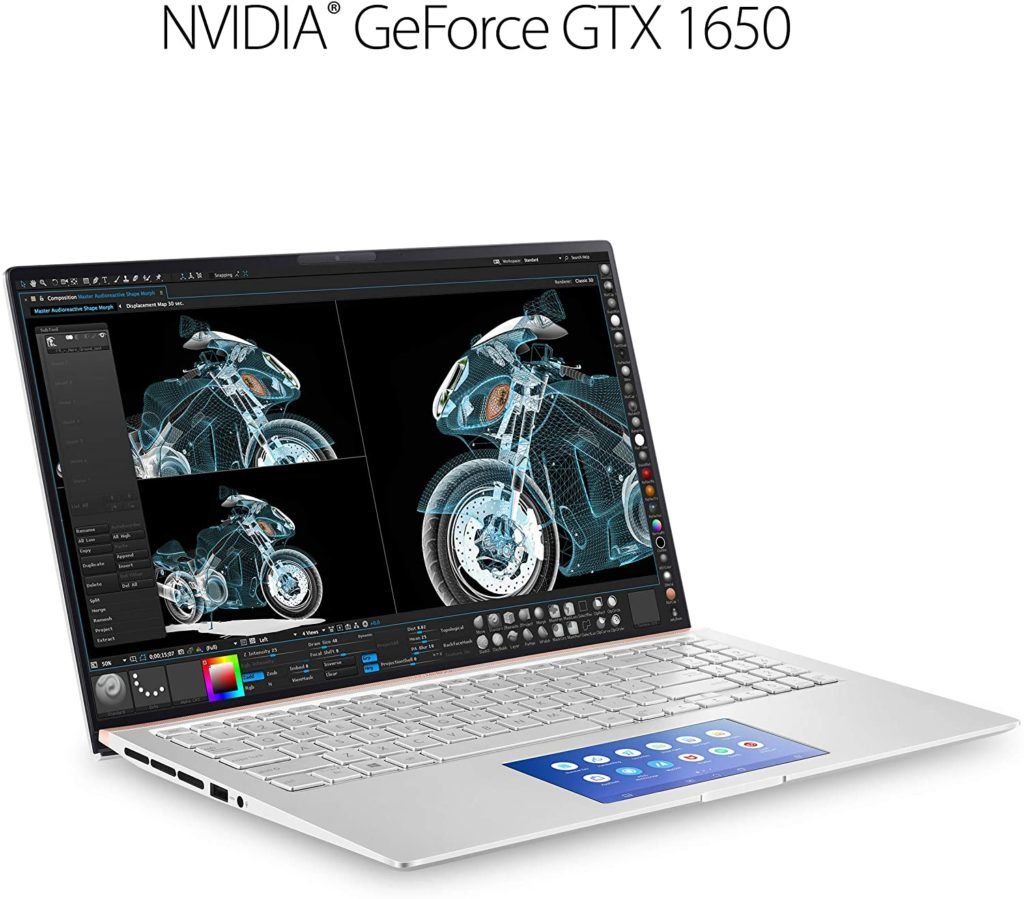 This ASUS ZenBook 15 is unique in the market when launched and become the trendsetter for other tech companies. Very companies are offering a 15-inch display with a compact design. The main niche where it steps ahead from others is its overall performance, long battery life, ultra-slim design.
These qualities are the reasons people get attracted towards it. But some people complaints about its screen reflection, we will talk about its specifications now.
Specifications
CPU: 1.8GH Intel Core i7 8565U – Quad-core – 8MB cache – 4.6 GHz Turbo boost
Graphics: NVIDIA GeForce GTX1050 – 2GB/4GB GDDR5 VRAM – UHD Graphics 620
RAM: 8GB/16GB 2400MHz DDR4 onboard
Screen: 15.6inches LED-backlit – IPS Wide View 1920 by 1080 – touch display – anti-glare display
Ports: 1 micro SD card port – 1 combo Audio jack – 2 USB ports Type A – 1 HDMI port – 1USB port type C
Connectivity: wifi 802.11a/c – Bluetooth 5
Camera: 3D IR HD camera
Storage: 1TB PCIe
Weight: 3.2 pounds
Size: 0.70 in x 13.94 in x 8.66 in
Pros and cons
Excellent and durable compact design
Better screen pad functionality
Comfortable and reliable keyboard
Good audio sound
Mixed performance
Less intense and dull display relatively
Reviews
"I don't usually take the time to write reviews but I see that a lot of people are bashing this laptop for no reason, so I'll set some things straight. The UHD screen is amazing, as far as I can tell it is indeed a full 4k resolution (tested with 4k youtube videos vs my 1080p desktop monitor).
Specs are pretty fantastic for the price – you'd have to spend $500-$1000 more to get the same specs with Dell or Mac. I've had absolutely no issues with fan noise, nor are there any issues with the speakers buzzing at full volume. And honestly, I can't believe people are actually complaining about the track-pad being off-center. Get real, folks – it's not even noticeable. The touch screen is a nice feature, although admittedly I don't really use it."
Another customer says:
"I love everything about this laptop — the nice aluminum body, the comfortable keyboard, the decent touchpad, the great specs. But one thing was a deal-breaker. The screen's color is all wrong. All the yellows are mustardy and greenish — no matter how I change the color settings. As a graphic design student, I literally can't do work like that, so I had to send it back."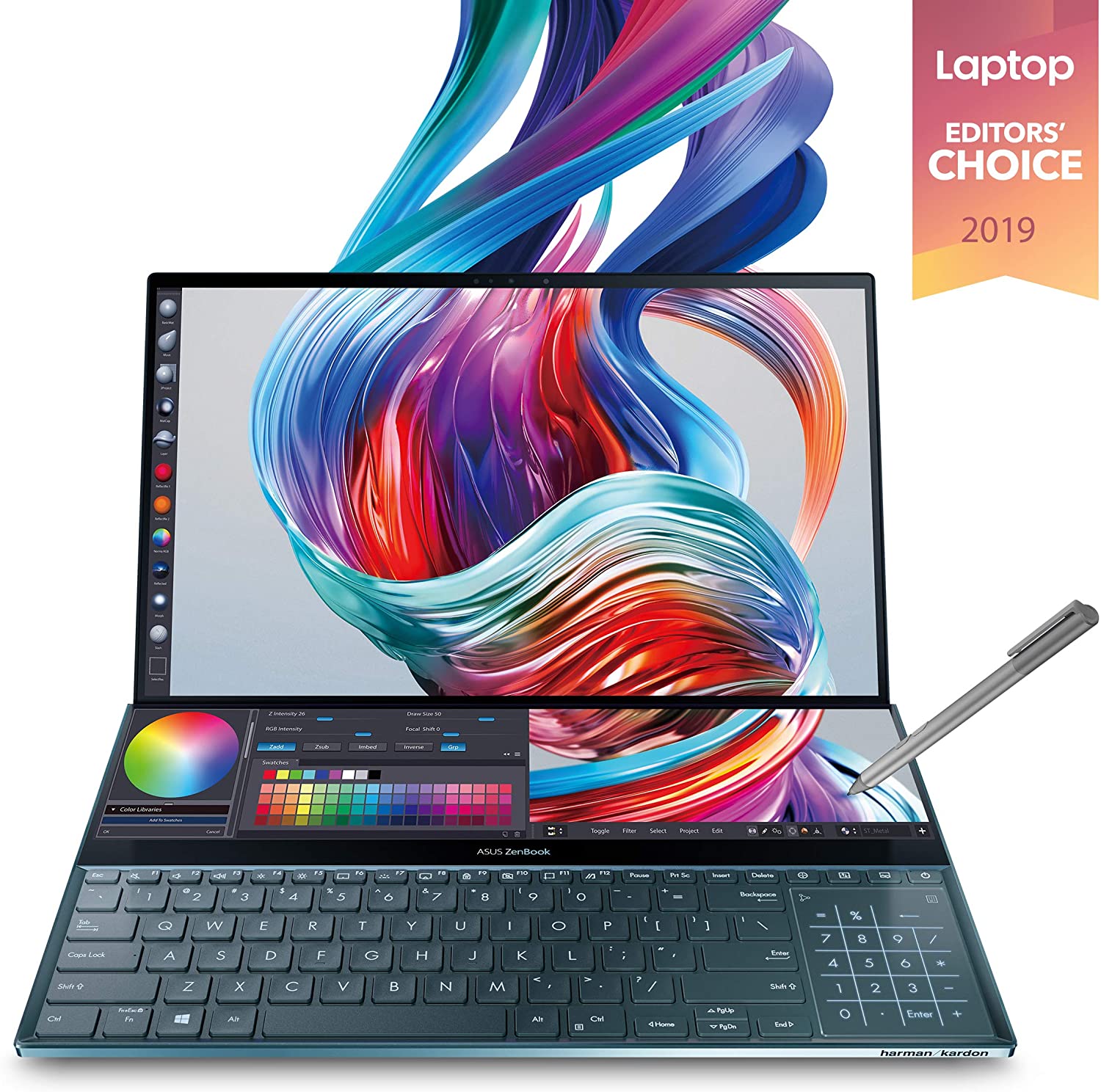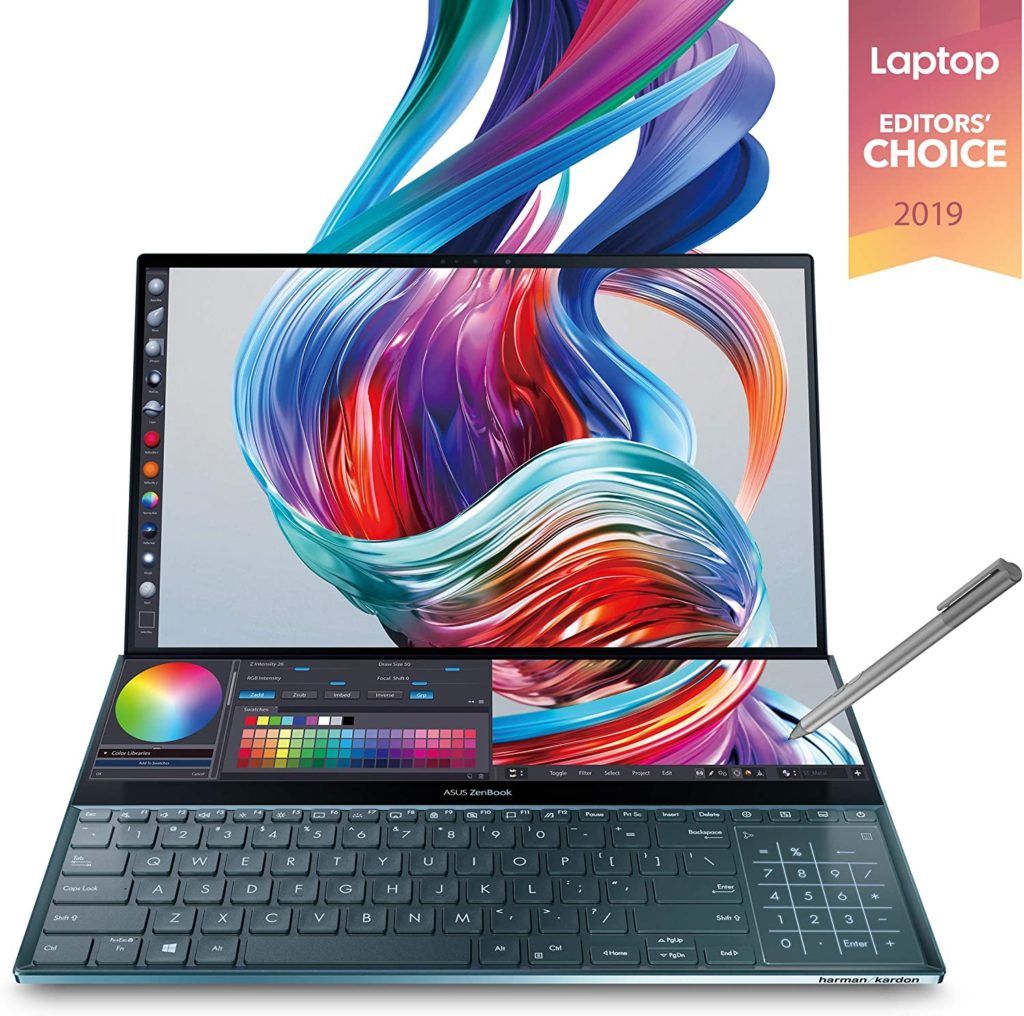 ASUS Technology Company is the king of producing dual-screen products. It looks like ASUS has just outdone its all technology in ZenBook Pro Duo. This model comes up with such great features of graphics and performance that none of the competitors have done yet.
No doubt there are many great laptops available in the market but ASUS ZenBook Pro Duo is a high functioning and good looking monster.
Specifications
Processor: Intel Core i9-9980HK processor – 2.4GHz octa-core with Turbo Boost (up to 5.0GHz) and 16MB cache
Graphics: NVIDIA GeForce RTX 2060 Video memory – 6GB GDDR6 VRAM
Display: 15.6 inches OLED 4K (3840 x 2160) 16:9 touchscreen – IPS-level wide-view technology – DCI-P3
Memory: 8GB / 16GB / 32GB 2666MHz DDR4
Storage: 256GB PCIe Gen3 x2 – 512GB PCIe Gen3 x2 – 1TB PCIe Gen3 x4 Intel Optane Memory H10
Ports: 1 x Thunderbolt 3 USB-C – 2 x USB 3.1 Gen 2 Type-A – 1 x Standard HDMI 2.0 – 1 x Audio combo jack – 1 x DC-in
Camera: IR webcam with Windows Hello support
Wireless Connectivity: Intel Wi-Fi 6 with Gig+ performance (802.11ax) – Bluetooth 5.0
Weight: 5.51 pounds
Dimensions: 0.94 in x 14.13 in x 9.68 in
Pros and cons
Fabulous display screen
Excellent power computation
No noise from the machine
User-friendly touch and keyboard
Cramped trackpad
Fewer storage slots
High weight
Expensive
Reviews
" I've waited for months for this computer to be released. It was worth the wait. I'm glad I purchased the i7. The features of the i9 computer are limited and not worth the extra $500 especially since 16GB RAM for this one is more than fine for me. It is a great computer. The screen is awesome!!!
The dual screens make multitasking easy. The keyboard to my surprise feels great. I have not attached the palm rest. A system tutorial automatically populates for tips on how to use the screen pad. The computer feels sturdy and should last a long time."
Another customer says:
"I bought this Laptop for a home recording studio to multi-task and to bring it on the road and so far the Asus Zenbook pro duo has been solid right out of the box! I'm not a fan of the blue and wish it was all black…but it is, what it is. The main screen is beautiful and bright images look fantastic.
The second screen has a flat finish and works great for multitasking. An awesome laptop so far…will start to load it up with music DAW and pound it with plugins and really test drive the capabilities!! But so far, solid Asus!!"