If you are a tech lover and you need some great noise-canceling Bluetooth earpiece with impeccable audio quality, we have a review for you on the Plantronics Voyager 5200.
It satisfies the definition of a high-quality audio device. Plantronics Voyager is developed by California based developers. They aim to provide the finest audio support for all the mobile workers out there.
The features that come with this device are unbelievable. We can't help ourselves, but talk about how sleek and stylish the design is. Plantronics Voyager 5200 UC drastically improves the communication experience of the user.
It gives the best solutions for all the businesses out there who need improved mobility systems. Plantronics is one of the top producers of audio devices in the whole world and with this reputation, we expect nothing but perfection from this device.
You can also check out the ultimate guide to Fitbit Alta.
Working of the Plantronics Voyager 5200
The leading producers of high-quality audio equipment have crafted this device to deliver the finest results. We can totally say that communication is not compromised. The design of this earpiece sits very comfortably on the ear.
So, you don't get an ache after wearing it for long. Keeping up with their sterling reputation, they have created this Bluetooth earpiece in a small size.
This way you can carry it anywhere in your pocket. Looking at the stylish black color, we see nothing but class. The protective case that comes with it also looks stylish too. You can just pop it in your bag or pocket while going for your business journey. It will allow you to easily work while on a move.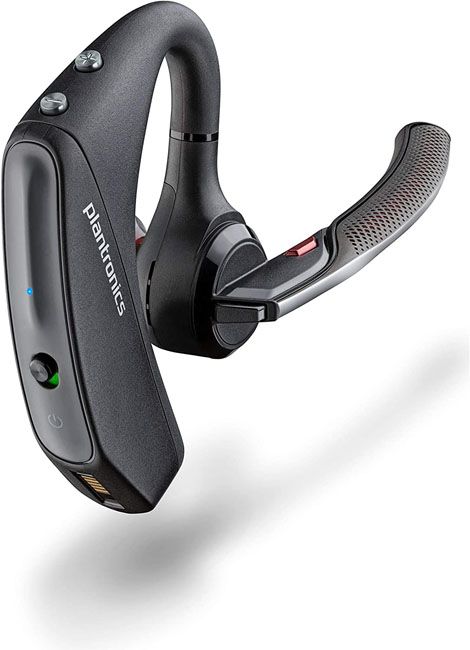 Features
The Plantronics Voyager 5200 comes with 4 adaptive microphones. They cancel any disturbing background noise and make sure that the sound quality is great. No matter how many environments you change during a call, your sound will remain constant. There won't be any problem regarding your sound.
The innovative WindSmart Technology works in an unflattering way. If you are moving during the call or the wind is blowing fast, you still get to hear everything clearly and your voice is going to the person on the other end in a smooth manner.
To make the experience even better, Plantronics Voyager 5200 UC has some great features to control the device with just one touch. You can easily access any of your voice assistants including Siri, Google Assistant, or Cortana. You will be granted access to making phone calls, sending messages, adding reminders, or scheduling meetings with your assistant with the help of this device.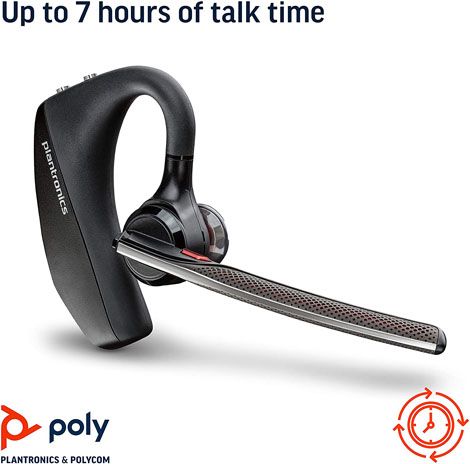 This way the Plantronics Voyager 5200 UC helps the mobile workers to keep their business to full advancement while they are on the go. Just using your voice to control the device can be pretty cool and this feature helps in communication.
Another great feature that comes with this headset is that if you turn the setting on for caller id and a voice answer, you will actually hear the name of the person calling and you can just carry on your call without even touching your phone.
When you know who is calling you, you will get a choice to answer the call or ignore it by just using your voice. There is an innovative sensor that detects if you are wearing the headset or not and if used, it automatically transfers the call to the set.
What Makes the Plantronics Voyager 5200 UC Special?
The Plantronics Voyager 5200 UC is compatible with multiple devices and this way it provides a very versatile range of uses. The BYOD support in the 5200 UC will help you connect it to any device and enjoy cross-platform coverage.
Improving mobility while on a call, this device works perfectly well when in a 30 m range with the mobile or laptop that it is connected to. This way you have a vast area to move around while on a call without worrying about where the phone is and if you are in the signal range or not.
It comes initially with 7 hours of battery time but if you buy it with the charging case, you get 4 hours of continuous use.
Final Thoughts
We can say that this Plantronics Voyager 5200 is a hit as it comes with some great features. It allows you to connect to your voice assistant with just one touch. This way your communication level will surely step up and you can be on the move and still stay connected with just your voice.
We recommend this device for anyone who has to travel a lot but needs to keep up with the working too. The design of this device makes it comfortable to wear and the features make it user-friendly.