If you are building an AMD PC, you will like to get the parts at a lower rate so you can get the whole thing completed in an attractive price range. This MSI 970 Gaming is so affordable that you will get a premium quality gaming motherboard without breaking your bank.
The chipset of this gaming motherboard isn't the most attractive one but when we look at the price point, this factor can be ignored. For someone who wants to build a complete system, this option is great because its price might be low but the MSI 970 gaming motherboard specs and looks of the motherboard are high levels. 
MSI 970 Gaming Motherboard
The MSI 970 Gaming motherboard has a stylish design with a color combination of red and black that shows sleekness and aesthetically pleasing. You will get a boosted Qualcomm Killer Ethernet chip to provide you high-level gaming experience and give the best performance as compared to the other options in the market at the same price point.
The audio grade capacitors come with their dated chipset but deliver the best features. As compared to the Asus Rog Strix x470-f Gaming Motherboard, this one comes with great audio quality.
MSI 970 Gaming Motherboard Design and Body
The combination of black and red already looks sleek and but when it combines with the MSI 970 gaming motherboard specs, we get a complete package. There are 4 slots for DDR3 and it can take up to 32 GB RAM so you can pile up a lot of memory by using all of these slots. There are 6 slots for SATA3, 2 for PCI, 2 for PCI express, and 16 slots for PCIe.
Most of the cheap motherboards only allow you to use 5 slots out of six at one time because of the placement and location but this one is designed so thoughtfully that you can use all of them at one time with ease even if you are running 2 GPUs. The MSI 970 gaming motherboard allows you to use 22 PCIe lanes so even when you are using the cards, your speed will not exceed x8. 
All of the ports are mixed so you get the option on every side. You will find an I/O board at the back with 8 USB 2.0 ports, 2 USB 3.0 ports, and one PS/2 port. It also comes with an Ethernet jack for gigabytes along with the audio jack and analog.
The Red color of the ethernet shows that you get a supporting E2200 chip with Qualcomm Killer. This killer networking is highly optimized for your online gaming as it has a high power capacity to avoid any buffering while you are busy playing. 
Performance 
The main problem people find while playing online games is the lag they have to face. The reason is their low power motherboard but with this one, your problem will be solved. To make the games perform in a better way and improve your experience, the gaming traffic is prioritized by the board.
You will not feel any lag while playing online due to the new lag reducing functions. This way you get to enjoy a smooth gaming experience. Just like a good gaming monitor and gaming headset, your motherboard also boosts your experience. 
Out of 8 USB 2.0 ports, 2 of them are red in color to show that they are dedicated to your gaming. This way these slots must be used for gaming cards and other gaming stuff to improve the performance. The Asus company says that these ports have better performance as compared to the other ones.
The reason is that these are specially designed to make the process easier and faster. These two slots are equipped with better technology that allows it to deal with any problems or wear and tear in the process.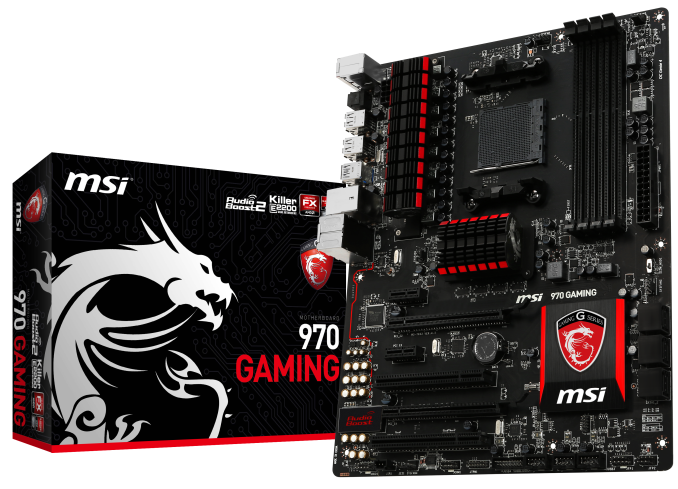 Should You Buy It? 
We totally recommend this as one of the best Asus gaming motherboards. If you are going to create your whole system from scratch and for that purpose, you are looking for a low priced motherboard option, we think the MSI 970 gaming motherboard will be the best. There are many other affordable options in the market. But this one gets a bonus point due to the features and quality. You get good RAM and cooling hardware. MSI 970 Gaming is going to be your partner because it delivers the support that your system is looking for.