We can define the Lenovo IdeaPad L340 as an allrounder laptop because it has all the essential features in a very limited budget. There are tons of gaming laptops in the market that you can choose from but this entry-level laptop allows you to get different features at an affordable price. When it comes to the left of the market the price variants and high featured laptops are everywhere. This is my detailed Lenovo Ideapad L340 Review, highlighting all the features and specs.
You can easily find one that has everything you need but the price tag matches the features. If you are looking for something in your budget and don't want to break your bank with just buying a laptop this Lenovo IdeaPad L340 is the one for you. Just like the BenQ EX3501R is included in one of the best-curved monitors, this is a great non-desktop PC. 
It's not easy to choose a laptop that is in your budget and fulfills all your requirements but we will help you describe all the qualities of this Lenovo Ideapad L340 to make sure if it matches your preferences or not. Do you know who is popular for launching different powerful but budget laptops for gaming and official use?
Do use the latest hardware as well as software to provide a high-level experience to the game is out there who can't afford an expensive laptop. You will also find the Acer Chromebook 514 to be very helpful if you are looking for a slim option. 
Build and design of the Lenovo IdeaPad L340
This laptop ranges in the middle ground if you compare it to the different business-oriented and gaming laptops of different companies and Lenovo as well. They think that the Thinkpad series laptops had much power and great features but the body of the laptops was very bulky to be used for gaming. This series on the other hand is actually a redesign of the previous series to give you all the great features in a sleek shape and lightweight body. 
The size of the laptop is 363 x 254 mm with only 23.9 mm thickness. The build quality of this laptop is of plastic but it doesn't look cheap. The total weight of this laptop is 2.2 kg. If you are more into slim laptops, you can also go for the Dell Precision 5530.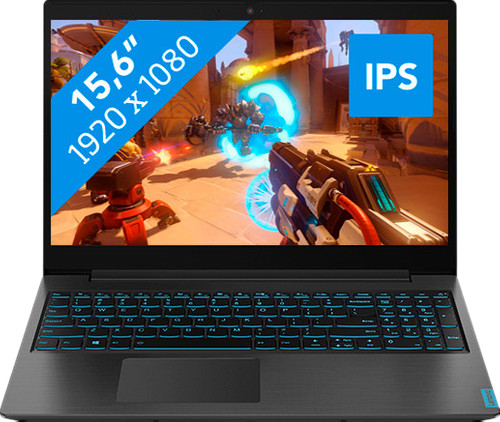 Display Quality of Lenovo IdeaPad L340
As it is an entry-level device the screen doesn't offer very exciting results. It comes with a full HD screen of 15.6 inches and the resolution display is 1080p. You can easily refresh your screen at 60 Hz at a different rate this way you save a lot of energy as compared to the devices that offer a 144 Hz screen refresh rate. The IPS panel has some great capabilities to provide a unique screen resolution of 60 FPS for even AAA games.
If you talk about the overall brightness of the laptop it has a satisfactory result. It is a great device you do different features but the color reproduction is not one of them. You only get 50% offload and RGB and the contrast is also on the lower side. Although the blue light emission of this device is great so if you are someone who will be spending a lot of time in front of this laptop we will totally recommend the new IdeaPad L340. Having an Anet A8 printer alongside for office use can be very helpful. 
Performance of Lenovo IdeaPad L340
This laptop comes with Core i5, 9th generation intel processor along with Nvidia GeForce GTX 1650 GPU. It has 16 GB RAM with 2TB HDD. There are many variations in this model as compared to other competitors because it has a more powerful CPU and RAM is also increased from the previous models. We can see that the Acer Predator Helios has most of the features the same as this one and they are equal competitors. 
If you have a lot of workdays you will be glad about the performance of this computer. It will allow you to easily perform all of your daily tasks with high speed and appreciable performance. Not just for that it also is a great laptop for gaming. You will be happy to see how well it does its job but don't expect anything higher than 1080p. It provides 60 FPS on an average so we think your heavy Triple-A games that were just fine with 30 FPS will work fine on this laptop is a great way. If you are a beginner or a casual gamer we totally recommend this Lenovo Ideapad L340 for your gaming and everyday working experience.