You will be surprised to know that this is the tiniest camera in the world that has stable performance. It will not be wrong to say that it is almost the size of an AA battery. Its little size doesn't keep it from giving you the best features. Insta360 Go has a user-friendly design that makes it the best small camera for day to day use.
The high-end cameras have professional features but what they lack is the access of a common man. Not everyone can afford them, and that's where Insta360 Go comes in. 
Suitability
We totally understand that the camera market is full of some great options like DJI, Garmin Dash Cam 55, and Go Pro, but it still competes because it is for the average user. So if you are someone who is not looking for 4K video quality, you are okay without getting the raw video footage, you just want to share it on social media and easily convert it into your phone, this is the camera for you.
Some people like it when they have a big boxy camera, this one will not give that feature but still serves the purpose. We can call it an action camera for average users. Its size is almost equal to your pinky finger but looking at the options it provides, you get a vast range.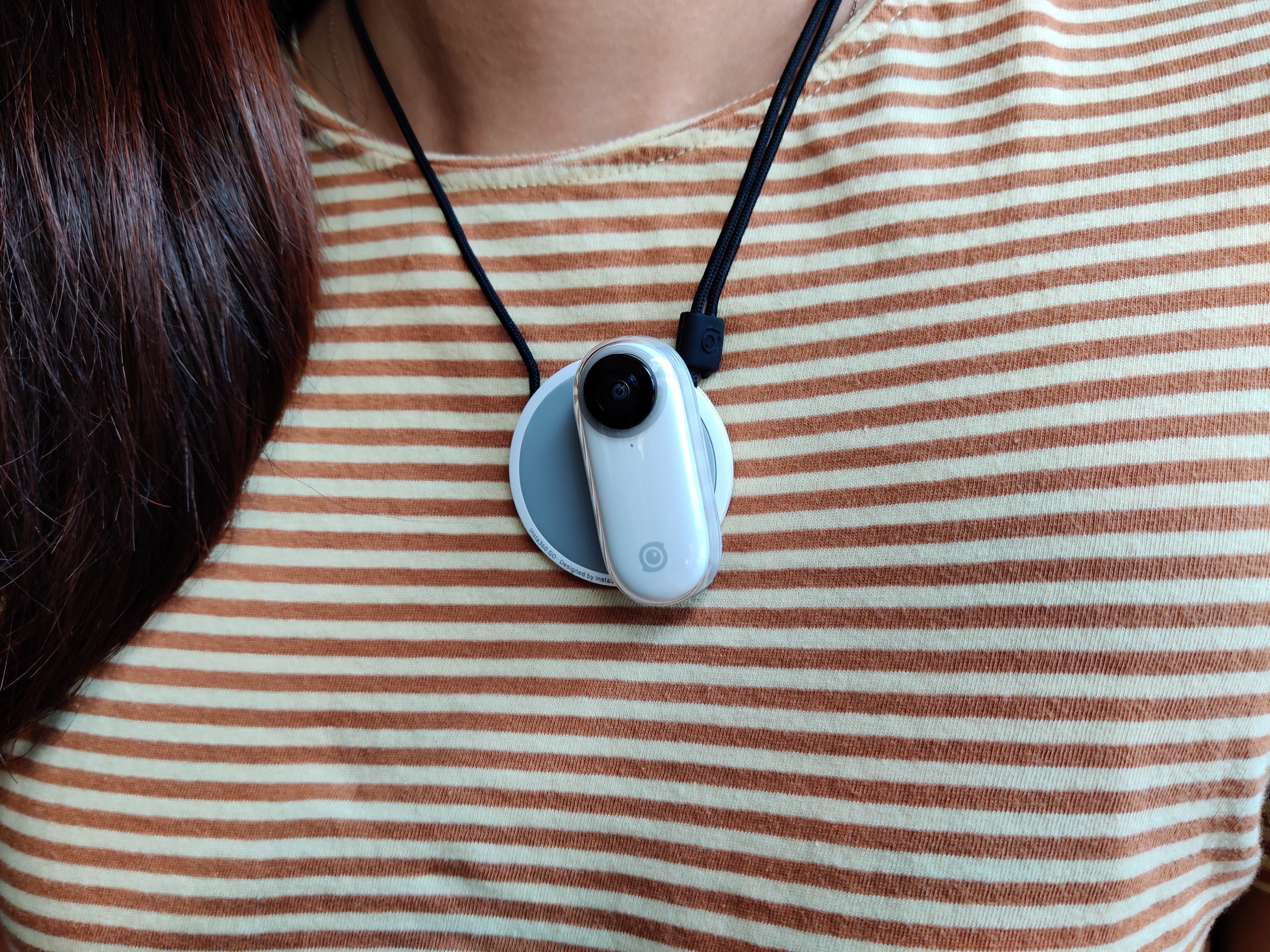 What Comes in the Box?
You get a lot of accessories in the box that is organized on a grey case and looks high end. After you open it, you get a zipped pocket, there is also a micro USB charging cable. So after you open the separator, you get a mount adapter, charging case, ring grip, and a magnetic pendant.
These are the mounting options that come with the camera and all of them give you limitless options for adjusting your camera. The camera is magnetic so you can attach it to any metal surface. That magnet also helps it to get attached to these mounting options. 
The silicon pad clip keeps the camera in place, you can easily access the rear button when the camera is mounted. These options allow you to attach your camera anywhere you like. You can wear the magnetic pendant and keep it below your shirt, now attach the camera over it and you can flip while you move. Holy Stone Drone drone gives you the perfect footage from the top but this camera is great to get Point Of View footage of something.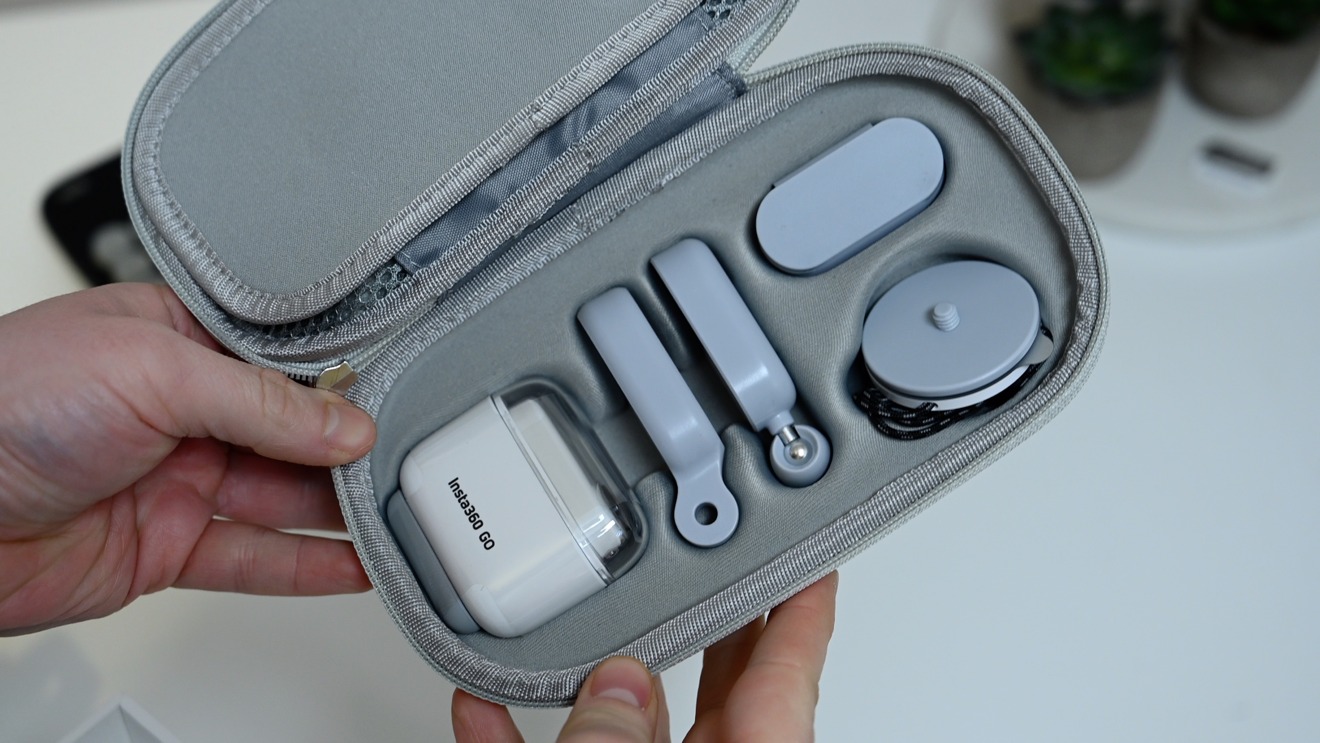 Insta360 Go Shooting
The process to shoot videos and photos with Insta360 Go is really easy. Even when the camera is turned off, you can just start recording by pressing one button. It can record small videos of 15 seconds, 30 seconds, or 1 minute.
For turning it on, there is a rear button that you will have to hold for a few seconds to turn on. It provides you the option of recording slow motion and hyper-lapse videos. If you press the button once, it will take a picture. To start recording hyper-lapse, you will have to press the rear button two times, and three times for slo-mo video.
You can also customize these settings for your camera on the insta360 go app just like you prefer it. There are times when your hands come in the way the shot has your hands in it, to avoid such situations, Insta360 Go has created a feature to crop that part out. When you connect your camera with Bluetooth, you can control it from the app. 
Handling Footage on Insta360 Go
There is this feature that we absolutely love and needs to be added in the Insta360 Go Review. With a normal camera, it is a hassle to convert the content and videos to your phone. You have to use software and add it to your PC, then it is converted to your iPhone so that takes a lot of time and effort.
But, when it comes to insta360 go, there is a lightning connector that will directly send all of your videos and photos to your phone without any worries. Just plug it directly in the charging slot at the bottom of your phone and automatically launch the footage transfer. It can also automatically delete it from the camera or you can use the insta360 go app to disable this feature. 
Should You Buy It?
Keeping in mind the insta360 go price, we totally recommend it. If you are insistent to get something for 4k videos, then look for an alternative otherwise insta360 go amazon is the best option for casual and quick media.