The passion for computer games in the current generation is getting higher day by day. The market is coming up with tremendous accessories which update the experience of games on and off. The mouse, keyboard, router, etc. are the essential parts of any computer game. If we talk about the mouse specifically, there are 7 Best Gaming Mouse for FPS which this article aims at. The review will completely guide you from features to their functionality, so get advantages of this article instead of repenting by shopping randomly for any gaming mouse.
What is a Gaming Mouse for FPS?
Gaming mice for FPS games aren't particularly spectacular; they don't have as many side buttons as can be witnessed in MMO or MOBA mice, but only two buttons are there for the process.
The finest gaming mouse for FPS should have a constant sensor, low click latency, and a short minimum lift-off distance. The first principle of the Gaming mice for FPS games is that when selecting a mouse for your purposes, it should be comfortable for your hand size and desired grip style. Mice for FPS games are usually lightweight and engineered for quick and accurate motions, whether you desire a reliable cable connection or the freedom of a wireless design.
After examining the operations and practicality of many Gaming mice for FPS games, the list has been compiled to tell you which are the top-ranked, lightweight, economical and which mice work perfectly being wireless.
1. Razer Viper Ultimate Hyperspeed Lightweight Wireless Gaming Mouse for FPS
The top selection of wireless Gaming mice for FPS games is no doubt Razer Viper which has ultimate hyperspeed and never disappoints the user while playing any game. In the advanced mice, there are generally two buttons on the left side but this mouse has its unique feature because it has two buttons on each side which are designed in a way that you will find them slightly further back on both sides. This feature suits both left and right-handed players who can access them without inserting effort.
Apparently, it seems very aggressive with sharp angles. The worthy part is that it has a low back which is generated to let the gamer with larger hands grab it with their fingers. It doesn't mean the small-handed people can't hold it; they also feel at ease with palm and claw grip.
With a USB receiver, you may connect it wirelessly, and it comes with a charging cradle that also serves as a receiver extender. Because of its low lift-off distance and low click latency, the sensor is less likely to track unintended cursor movements when relocating your mouse. Its premium quality feet also glide effortlessly on mousepads and surfaces.
This mouse is one of the greatest FPS gaming mice and is one of the best FPS gaming mice ever witnessed.
Key Features:
Wireless Mice that are 25% faster than competitors. Wireless Esports Gaming Mouse for FPS with Zero Compromise at 74g.
The Razer Viper Ultimate has a 20K DPI optical sensor that is suitable for the keenest gamers, and its weight is achieved without the need for drilled holes.
Advanced than traditional mechanical switches.
Light beam-based actuation is used in the new Razer optical mouse switches, which register button pushes at the speed of light.
Maximum Speed(IPS):650,onboard Memory Profiles:5. Dock Compatible is its dimension.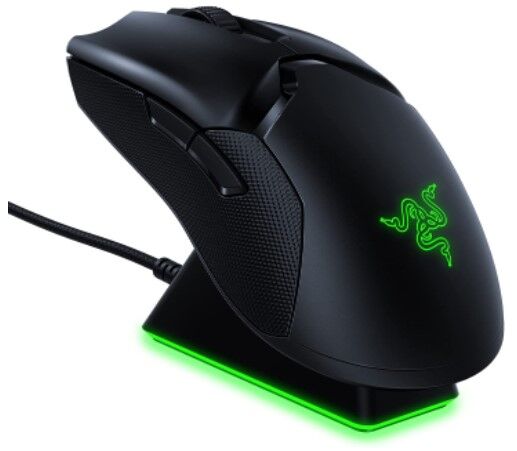 2. Logitech G305 LIGHTSPEED;Most Affordable
Wonder if you have ever seen a solid-plastic-shelled wireless gaming mouse. The Logitech G305 LIGHTSPEED is going to crack the market of gaming accessories by the quality it is proving is such a reasonable amount. You can connect it through a USB receiver and operate it with a single AA battery. It gives a look of an expensive item with a well-built shape.
It has an egg-shaped body that is virtually symmetrical. Have it with a pair of side buttons on the left, and a CPI button behind the scroll wheel by default.
It has a low click latency and a very short minimum lift-off distance in terms of performance. You can also change the CPI in small increments across a wide range. The ones who are habitual of playing games like all the features of this mouse and enjoy the comfort zone of using it for a long time.
It has six customizable buttons, and its sensor performance is superb.
Key Features:
The Logitech G305 has a traditional design and a compact egg-shaped body. Matte black, white, lilac or blue are the colors that are easily accessible. There are no RGB zones, and the rear simply has a little Logitech G logo.
The Logitech G 305 is portable because of its compact footprint and wireless capabilities. Its USB receiver may also be packed under the palm rest panel, making it easy to put into a backpack.
The build quality of this mouse is excellent. It's built of solid plastic and doesn't have any loose or shaky components.
Hero Gaming Sensor is its hallmark. Thanks to 400 IPS precision and up to 12000 DPI sensitivity, the next-generation HERO mouse sensor saves up to 10 times the power of competing gaming mice while providing remarkable accuracy and responsiveness.
A lag-free gaming experience can be taken by this one of the 7 best Gaming Mouse for FPS.
The G305 Wireless Gaming Mouse for FPS distributes unbelievable receptiveness and dependability with a super-fast 1ms report rate for competition-level performance.
The battery is awesomely designed so that this G305 wireless Logitech mouse boasts an incredible 250 hours of continuous gameplay on a single AA battery. After having this gaming mouse, gamers will be satisfied while having peak performances.
The G305 Gaming Mouse for FPS weighs only 99 grams thanks to an efficient mechanical construction, allowing for excellent portability.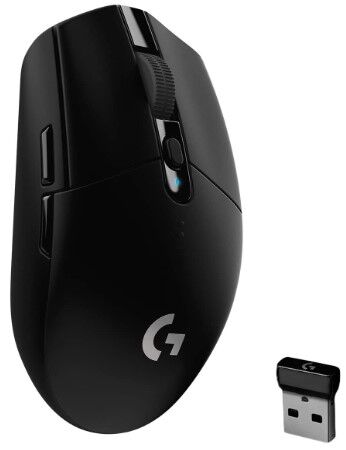 Buy: Logitech G305 Wireless Gaming Mouse
3. Logitech G502 HERO; Best Overall
Logitech G502 HERO is a brand with superior features which are hard to avoid, designed for high-end gaming performance. The HERO 25K gaming sensor with sub-micron precision tracking, customizable LIGHTSYNC RGB, onboard profiles, repositionable weights, and more are all included in the G502 HERO.
Key Features:
With next-gen precision and a built-from-the-ground-up design, the HERO 25K is the most appropriate gaming sensor ever. HERO is proficient with 400+ IPS across the 100 – 25,600 DPI range with zero smoothing, filtering, or acceleration, thanks to the quickest frame rate processing yet.
The HERO 25K offers competition-level precision and continuous responsiveness. Use the Logitech G HUB to adjust and tune your DPI settings.
11 buttons can be programmed according to your taste by giving commands and macros to each of the 11 buttons on the Logitech G HUB. Ready-to-play profiles can be saved on the mouse so you can carry your preferences with you everywhere you go.
Even the weight can be adjusted. To get the most out of your mouse, fine-tune the feel and glide. G502 HERO comes with five 3.6g weights that may be configured in a variety of front, rear, left, right, and centre-weighted configurations. Experiment with alignment and balancing to discover the sweet spot for best game performance.
Many aspects were carefully developed and designed in addition to the primary performance and customization features. Look for mechanical switches on the principal buttons, rubberized side grips, a magnetic weight-cavity door, and more.
Buy: Logitech G503 Wireless Gaming Mouse
4. Corsair Sabre RGB Pro mouse; best overall
Your struggle of looking for the fantastic wired Gaming Mouse for FPS is finished now as The Corsair SABRE RGB PRO has jumped into the market. It boasts a strong plastic body with a subtle roughness for increased grip and a comfortable right-handed shape. It's small, light, and properly structured, with a very minimal click latency. It also comes with two independent RGB lighting zones, a flexible cord, a decent mouse foot, and customization tools for Windows and macOS. Its CPI has a large range that you can change in one-step increments. It works well with all grip styles. This mouse is also one of the first to include an 8000Hz polling rate, which should result in a more fluid-feeling experience.
It is great news for a gamer to listen to the news that Corsair SABRE RGB PRO is ideal for FPS gaming. It has a good build quality, due to its being lightweight, it is portable, and having a low click latency. The market hasn't introduced 8000Hz maximum polling rate mice before the launch of this brand.
The maximum polling rate could smooth out cursor motions. It also boasts a flexible connection, a nice mouse foot, and a wide CPI range that you may change using the companion software in one-step increments. Its relaxed right-handed design is ideal for all grip styles.
Key Features:
The Corsair SABRE RGB PRO is manufactured in a unique way by having a right-handed design, two left-hand side buttons, and a matte black plastic shell with a subtle roughness for increased grip. The Corsair logo has two separate RGB zones, one within the logo and the other within the mouse wheel. The CPI setting is indicated by an additional LED light on the left side.
The build quality of the Corsair SABRE PRO is exceptional. There is no flex in the body, and the left and right clicks provide a solid feel. When you shake the mouse, it makes a rattling sound, and the side buttons are a little spongy.
The SABRE RGB PRO is durable to a greater extent than you can play the game or even match for a longer time. The other noteworthy thing about it is its ultra-light 74g structure which helps in accommodating quick motions and twitch reactions.
The spring-loaded manufacturing of CORSAIR QUICKSTRIKE buttons ensures that there is no gap between the primary mouse buttons and their switches, making your clicks, shots, and spells much more abrupt.
With 8,000Hz hyper-polling, CORSAIR AXON hyper-processing technology delivers your motions and clicks to your PC up to 8x faster than a traditional gaming mouse.
A paracord weave cable that is exceptionally light and stretchy greatly decreases drag, allowing you to maintain your mouse movements fluid and agile.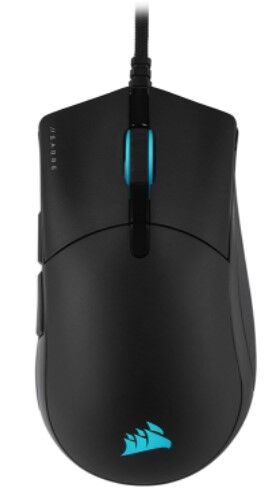 Buy: Corsair SABRE RGB PRO Gaming Mouse
5. Logitech G PRO X SUPERLIGHT; Greatest Wireless Gaming Mouse for FPS
It is proven that Logitech G PRO X SUPERLIGHT is the greatest wireless ultra-light FPS mouse. This mouse has a symmetrical, solid plastic body that is exceptionally comfortable for all grip types and practically all hand sizes, weighing only 61g. It boasts virgin-grade PTFE feet that slide effortlessly across desktops and mousepads. For this reason, it is best for gaming.
Key Features:
It can connect wirelessly with a USB receiver or can be used in wired mode while charging. It possesses a very low minimum lift-off distance and excellent click latency.
You will find its sensor to be quite consistent, and you may fine-tune the default CPI in 50-point increments over a maximum range.
Additionally, you may customize sensor settings and reprogram all buttons which gives a second layer of control. Changing can be done by using the companion software, which is available for both Windows and macOS.
The gamers who are seeking an ultra-light Gaming Mouse for FPS that connects wirelessly and fits nearly all grip types and hand sizes, this is a great option.
Despite the lack of a honeycomb design, it's one of the lightest mice you have ever encountered. It has a very low click latency and a high polling rate, and its CPI can be set exactly in increments of 50, whether it's used wired or wirelessly.
They are available in the market in two colors: White and black.
It's one of the lightest mice we've ever tried, which is particularly impressive given that it's wireless. It's small enough to fit inside your laptop bag without too much trouble.
The USB receiver can be stored within the mouse because it has enough room.
The build quality of the Logitech G PRO X SUPERLIGHT is remarkable. It's totally comprised of lightweight plastic that feels both light and strong. When you apply pressure to the sensor, it flexes somewhat, but this shouldn't be an issue in normal use.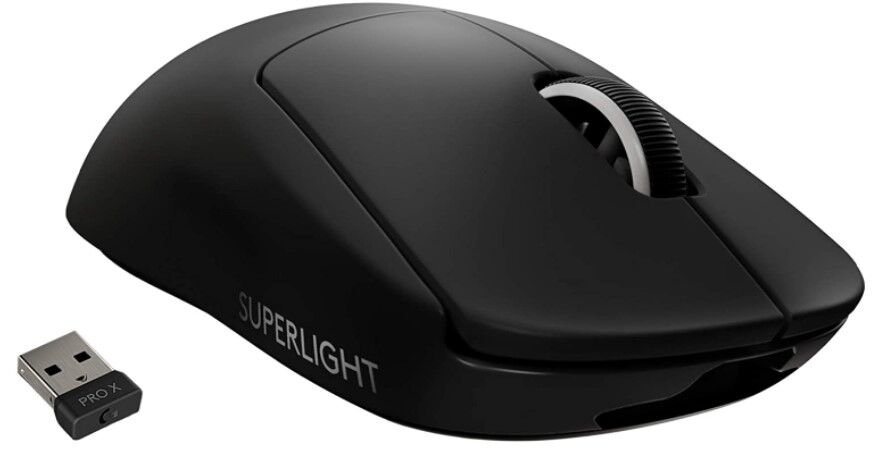 Buy: Logitech X PRO G Wireless Gaming Mouse
6. Razer DeathAdder v2 Gaming Mouse; best for all-purpose
If you move the mouse as quickly as humanly feasible, Razer's latest technology provides faultless tracking. Razer DeathAdder has an overall wonderful design for all kinds of grips and hand sizes. The DeathAdder V2 has a 20,000 DPI Razer Focus+ optical sensor which is excellent for the vast majority of games and gamers.
Key Features
It has a basic design with two well-placed large thumb buttons. It also boasts a fantastic optical mouse sensor that works with both hard and soft pads, as well as the ideal body form for a claw or hybrid claw/palm grip.
The left and right mouse buttons are also more durable. They're optical rather than mechanical (they register clicks with an infrared light beam, therefore they should have fewer misclicks, shorter latency, and a longer lifespan.
New Razer optical mouse switches use light beam-based actuation, registering button pushes at the speed of light, making them 3x faster than traditional mechanical switches.
Chroma RGB Immersive and Customizable Lighting have the capability of supporting 16.8 million colors with preset profiles which are available; syncs with Razer Chroma-enabled peripherals and Philips Hue products during gameplay.
8 Buttons are there to program which are Razer Synapse 3 Focus+ 20K DPI Optical Sensor permits button remapping and advanced macro function assignment. For industry-leading precision, auto-calibrates throughout the mouse mat and decreases cursor drift from lift-off and landing.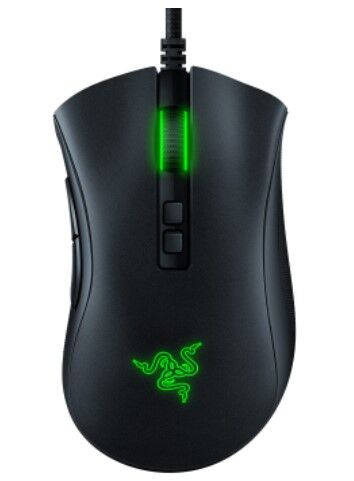 Buy: Razer DeathAdder V2 Gaming Mouse
7. SteelSeries Rival 3; Reasonable Gaming Mouse
Steelseries Rival 3 is an affordable gaming FPS mouse whose value can be acknowledged only by a gamer.For gaming, this is a good mouse, clear and primarily razor-sharp. And, of course, in shooters, this is something that is really significant and desirable. You will never have the impression that the mouse will stick you somewhere in between the game. This mouse is very precise and direct.
Key Features
SteelSeries has the advantage of using one software that can control a variety of devices (of SteelSeries).
You can customize the setting of Rival 3 without much effort. The left buttons can be customized according to your choices. If you want your thumb button to perform a macro or function as a media button (pause/play, etc.) it can also be adjusted. Moreover, the DPI profiles can be changed in the top right corner. This allows you to create up to five profiles, each of which may be adjusted/selected via the DPI switch on the mouse's top.
Acceleration/deceleration, angle snapping, and polling rate are also available. The mouse's response to movements is directed by acceleration/deceleration and angle snapping. The polling rate is used to define how quickly a computer and mouse should reply to one another.
There are also many configs to enable on the left. This allows you to customize how the mouse reacts to each program. For instance, you may set the DPI to 6000 in Division 2 and 4500 in Battlefield V.
The illumination menu allows you to change the colour effects. Because the Rival 3 is made up of three zones, you can change them according to your liking.
In terms of colour, there are four choices.
– Steady (one color)
ColorShift (automatically switch colors)
– Multi Color Breathe (letting you breathe with different colors)
– Disable Illumination
The Steelseries Engine also contains a number of plugins that may be used with a keyboard, headphones, or mouse to do various sparky tasks.
On the left, there are two thumb buttons. These can be changed to any button you choose in the Steelseries Engine (software). The DPI button, scroll wheel, and, the left and right mouse buttons are all located on the top. You will not see any buttons on the right side of the Rival 3.
To connect to the computer there is a typical need of a USB cable that is 1.8 meters long.At the bottom, you can only see that the RGB surrounds the mouse entirely. The good news is that the colour of these three zones can be changed separately.The interesting thing is that at the bottom, you can only see that the RGB surrounds the mouse entirely. The good news is that the colour of these three zones can be changed separately.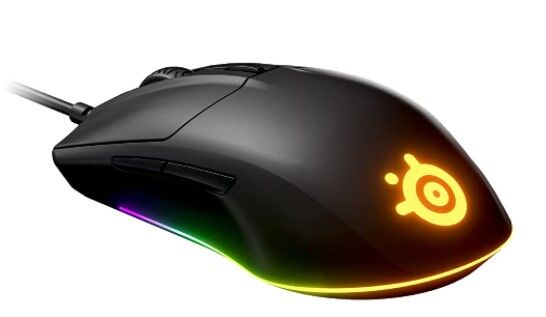 Buy: Steel Series Rival 3 Gaming Mouse
Notable Mentions
If you are a computer game fanatic, this article is the best guide to take you to some amazingly unique Gaming Mice for FPS. The mouse which has extraordinary features is discussed in detail to let you take maximum advantage out of it. Beyond the boundaries of the traditional mouse, the above-mentioned gaming mouse for FPS works outclass. So, do the right selection to get happy while playing for a long time.
FAQS
Q1: What is the greatest FPS mouse on the market?
A: 7 Best Gaming Mouse for FPS What is the best FPS mouse in the world?
Razer Basilisk V3. Best Gaming Mouse.
Logitech G502 Lightspeed. Best Gaming Mouse Splurge.
Razer DeathAdder V2 Pro. Best Wireless Gaming Mouse.
Corsair Katar Pro XT. Best Budget Gaming Mouse.
Glorious Model D-
Cooler Master MM720.
Corsair Ironclaw RGB.
Razer Basilisk Ultimate.
Q2: What does it mean by FPS mouse?
A: In long form, FPS stands for Frames Per Second. The FPS of a mouse sensor is the number of frames the sensor captures per second to track the distance traveled.
Q3: Is a lighter mouse preferable?
A: Why are light gaming mice superior to heavy gaming mice? Lightweight gaming mice are ideal for players that require pinpoint precision and quick motions in FPS and MOBA games. With the reduced weight of the mouse, you'll be less prone to have hand fatigue from long gaming sessions.
Q4: Is the Logitech G502 a good product?
A: The Logitech G502 Hero is a popular gaming mouse that is suitable for a broad range of hand sizes and grip types, as well as providing a wealth of responsive buttons, outstanding build quality, RGB lighting, and programmable weights. It's also fairly priced; the next-best alternative is often roughly twice as much.
Q5: What FPS mouse should I use?
A: The Logitech G203 LIGHTSYNC is the greatest FPS mouse we've tested for gamers at an affordable price. It has a symmetrical egg-shaped body that can be used with a fingertip grasp on any hand size, and it feels like it has an appropriate structure, especially considering the price.