After investing a great sum of money in a laptop, yet, you didn't get the results you expected. Maybe, you don't have any idea in which laptop technology to invest. You don't need to worry about that now. After doing research, we have found the most suitable budget laptop for you. Acer Aspire E15 will get the job done for you. Acer is a popular brand; moreover, they have laptops in many different variants. This E15 laptop is best for you. It entirely depends upon you, how you use it. You can consider it as gaming or even a business laptop. Let's do Acer aspire e15 review.
For a regular job, Acer Aspire E15 is the perfect laptop for you. It is worthy of every buck you invest in it. Besides that, for the gaming experience, you can run it for integrated graphics. This laptop gives high performance, along with long battery life and a superb range of ports. It has beaten the other competitors in the market when you consider the pricing range. Acer laptop gives a full display for the user in a unique aesthetic design. Talking about the specifications, let me give you a fact that will clear the air for you.
On this laptop, you can easily load ten running tabs at a time. Also, to enjoy, you can change the display of the video to 1080p. It will smoothly deliver you the performance without letting you notice it. If you are searching for a laptop. Among all the competitors it is the best one to go with. In this article, we have precisely described every aspect of this system. To make sure, what are your requirements.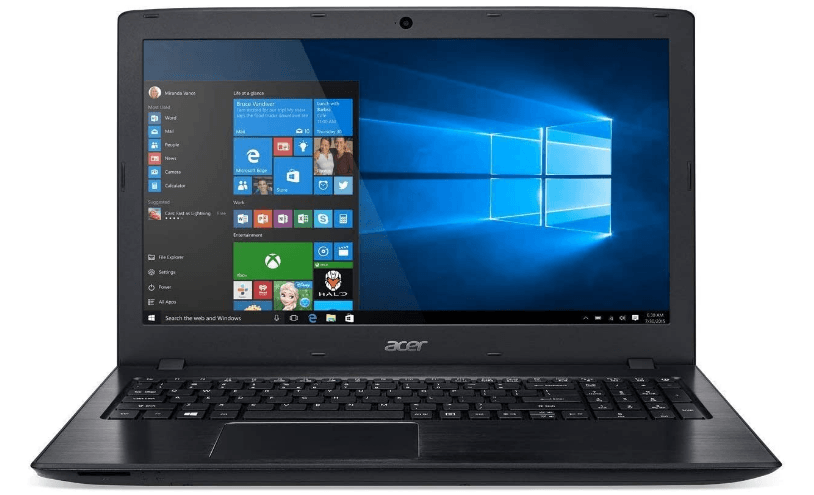 Overview:
We consider this laptop to review because of the number of features that Acer provides in their system. Last year, Acer was one of the top-selling laptop brands. Let's see what's the mystery behind them. Acer Aspire E15 completely contradicts its price range.
Acer Aspire E15 Price: Acer Aspire E15 laptop comes in two different variants. The one model is available at 307$. It has an intel core 1-3 processor with 6GB of ram and 1TB hard drive. Also, it is the least expensive system available in the market.
The other laptop model is available at 599$. Bit expensive, yet it has a core i-5 processor, 8GB ram, 256GB SSD, and an NVIDIA graphics card. For gaming, this laptop is always in demand in the market.
Design: As you can notice, it is a 15-inch budget laptop. It is a bit heavy in design. Also, the deck is made with premium plastic. However, a brushed metal texture gives it the perfect aesthetic design and look. The touchpad has a spiced-up simple design. On the back end, you will see the offset chrome logo. Collectively, the whole design weighed 5 pounds. It is approximately equal to 2.3 kg.
Ports: The presence of ports in a system is vital as it helps minimize the workload via sharing. This budget category performs quite well when we consider port support. On the right side of the E15 laptop, you will get the USB 2.0 port, also sides with an 8X8 DVD-RW double-layer drive. As usual, you will get the headphone jack and power connector in the E15 laptop.
On the other side, you will get a USB 3.1 Type C port, Ethernet connection port, VGA input, and an HDMI port. Slightly below, you will have USB 3.0 ports and a Kensington lock. So, you can use an IBUYPOWER mouse with it. Also, you will have an SD card reader on the laptop's front edge side.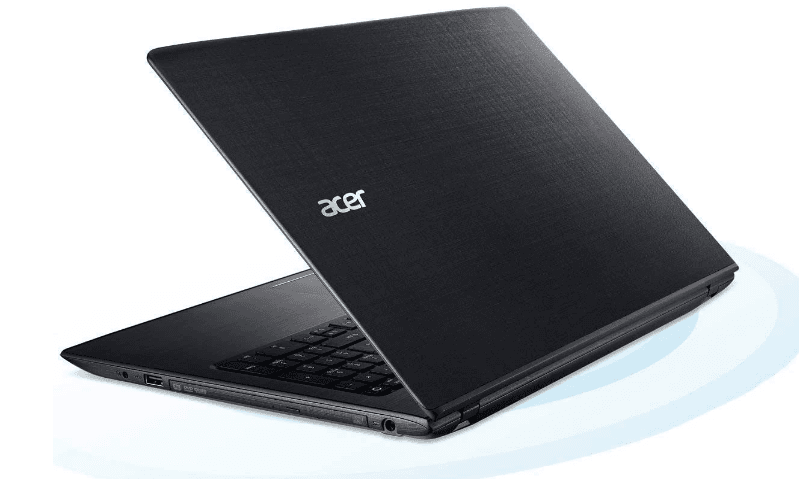 Display Resolution: This laptop has a sharp display. Unfortunately, it is non-touch and not much colorful. Even so, its 1920x 1080 provides enough details. So, you can use different editing software. Thus, with an LED widescreen display, you can watch movies at the maximum 1080p resolution without any jamming in the visual displays. It reaches the maximum display of 227 nits. Also, when we played the video at full resolutions, the system doesn't get heated. Staying in the described threshold limit.
Performance Capability: Acer E15 laptop offers the ultimate price to performance ratio. It has an 8th Generation Intel Core i-3 CPU, 6GB of ram, 1TB 5200-RPM hard drive, all for 349$. This laptop has easy load ten Firefox tabs at a time. Also, you can play HD full resolutions using the other tabs. Unlike the other brands' budget laptops, it doesn't stick a bit. Also, it is much faster than the Acer Spin 3 and the Vivobook. You can play an average game easily. However, games like GTA V are difficult to run. Besides that, they provide high-resolution graphics.
Speaking about the battery time, we can't say it gives an extreme performance. However, as a budget laptop, it is quite good. When run through the Laptop Mag Battery Test, it lasted for 8 hours and 48 minutes. It is being run through continuous web surfing over WI-FI at 150 nits of brightness during the test. In a budget laptop, it's quite surprising. Also, a built-in webcam is installed above the middle of the screen. The cam captures a good amount of detail. However, for a much clear image, I would prefer you to buy an external webcam.
While using the laptop, if you ever face any problematic event. They provide the support you can contact them there. Also, the Acer Aspire E15 laptop comes with a one-year warranty. In a nutshell, if I describe this product on a limited budget, this laptop is the best, especially when we talk about performance and features.
Now let's give you a complete Acer Laptop E15 review. It has a lot of other vibrant features that we need to discuss.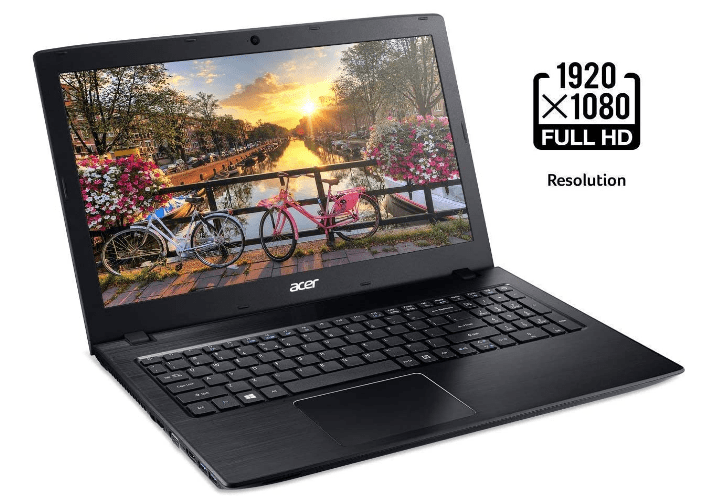 Buying Guide
After reading the full description, if still, you have some kind of doubts. The given guidelines will make sure that no stone is left unchecked.
Budget: Before you go shopping, make sure how much money you have for a laptop. In the market, almost every company has a different variant of laptops. Therefore, to buy a good setup, at least consider more than 400$. A good budget laptop is difficult to find as there is some issue in every model. Some lack in performance, battery, or some in the display. Therefore, after researching a laptop. Then go to buy them.
Check your Requirements: You are buying a laptop by considering certain needs, right? So, check in the description if it supports or not, besides, if you are trying to save some bucks. Thus, when you unbox the final product. For instance, if you want a laptop for graphic design. But if it lacks, then what's the benefit from it. Therefore, check the performance to make sure it is acceptable for you or not. For high-performance gaming, a budget laptop doesn't perform that well. However, they provide good resolution and speed for multitasking.
Battery Timing: A good budget laptop can easily run for 90 minutes when it is fully charged. For example, laptop-like Acer E15 has quite a battery timing. Unlike the other typical laptops. As you know, a budget laptop is quite heavy, thus charging them too much can make you irritated. However, it is preferred to use them with a charger. When the battery gets fully charged, it doesn't consume power. However, keeping the system in optimal condition. Laptops that have only less than 60 minutes of timing are not good. After some time, their batteries start getting slow, and eventually, they expired after some time.
Extra Features: In a budget laptop, these little things help a lot. Features like additional ports for charging and sharing data. Also, the existence of a CD reader and HDML port minimizes the work capacity. With HTML you can even connect monitor like Sceptre E255B. A webcam and an SSD card reader are also available in a budget laptop. Similarly, there are many more features like it.
FAQs
IS Acer Aspire E15 a good budget laptop?
Considering all the things like display, system performance, battery timing, and other things. Yes, in the market, it is one of the finest budget laptops. You don't need to buy extra accessories with it as it has quite several features in it. In a tight budget, these laptops do well enough.
Can Acer E15 laptop run games like GTA V?
Acer laptop has a graphic card with 1TB of the hard disk drive. Yet, unfortunately, it can't run games like GTA V. You can install them, but they will lack so much and sometimes didn't run. A gaming laptop falls on another high-performing category. Yet, you can download games like GTA 4, Mafia 3, etc.
You can also get the best gaming laptops under 500$.
How long can a budget laptop last?
It depends on how you take care of the laptop. As they are made with average material, yet this is not an issue here. Every laptop gets damage when making contact with a hard surface; however, if you keep the system clean and protected from malware. They can easily last more than 6-7 years without causing any trouble. However, when buying, install a glass protector to protect the screen.